Red Wings Notebook: Sizing Up Soderblom's Chances of Sticking With Red Wings
Elmer needs to be a presence in all three zones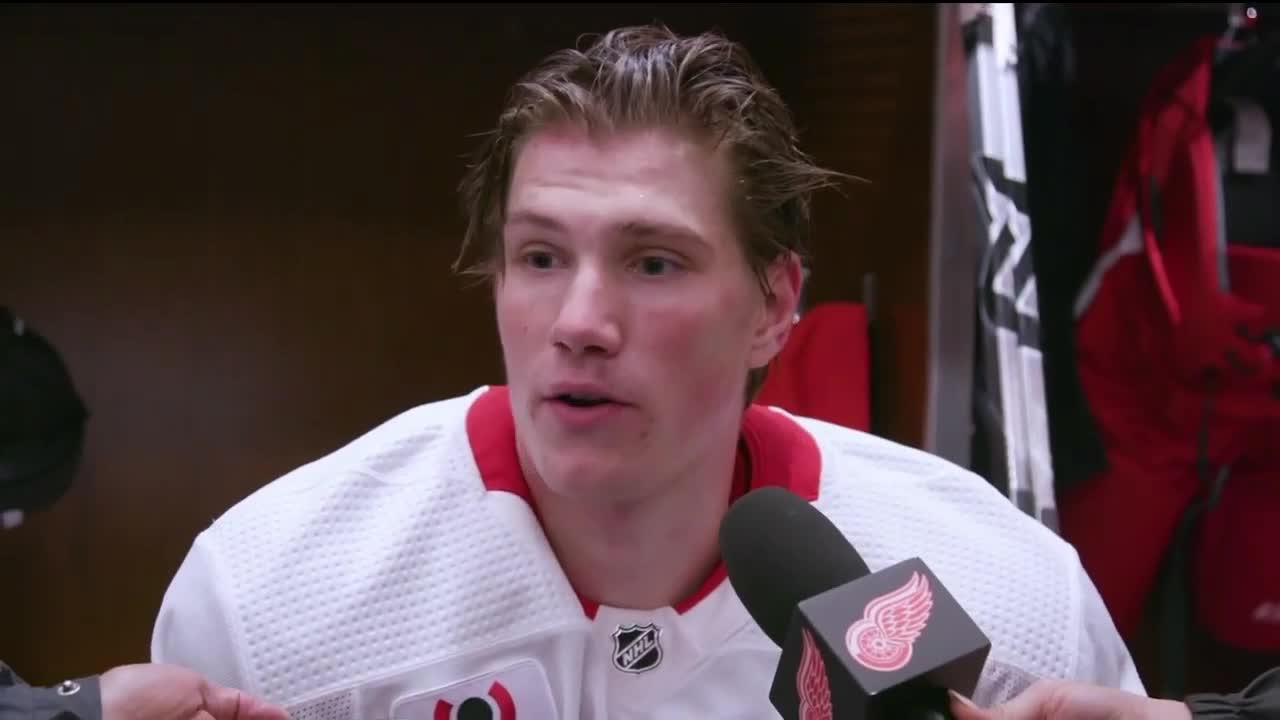 In two NHL preseason games, Elmer Soderblom hasn't been wowing the Detroit Red Wings faithful with flashes of offense like he did last fall, or as he was doing earlier in the month at the NHL rookie tournament.
Cross Hanas was the only prospect who scored in Saturday's 5-2 home-ice win over the Washington Capitals. Captain Dylan Larkin was scoring twice, with Moritz Seider and Austin Czarnik contributing singles.
POV: Elmer Soderblom is tipping shots in front of you… 😅 pic.twitter.com/hqqaxRyopK

— Detroit Red Wings (@DetroitRedWings) September 23, 2023
The thing is, offensive prowess is not what the Red Wings brass is seeking to see from Soderblom in order to establish that he's NHL ready.
They're looking for the 6-foot-8, 255-pound Soderblom to play to his size and to be a more consistent presence in all three zones of the ice.
"What you saw in his game last year was the lack of consistency," Red Wings coach Derek Lalonde said of Soderblom. "He's trying to do that for his game this year.
The hulking 22-year-old left-winger was accounting for 5-3-8 numbers in 20 games with Detroit before being assigned to AHL Grand Rapids, where he'd finish the season.
In the offensive zone, the Red Wings like what they are seeing from Soderblom.
"He's obviously very noticeable with the puck, his ability to control the puck, especially down low," Lalonde said. "I just think those habits away from the puck. Being a little more responsible defensively, helping us out with our team game a little bit."
Red Wings Want Soderblom To Be Big Presence
All over the ice, they're also seeking to see Soderblom play as big as he is while towering over opponents.
"A little more jam all the time," Lalonde said. "You can see it at moments. I liked through the rookie games and the game the other day, the simple habit of finishing your check. Obviously with that big body, being hard to play against."
Punishing (New)Power
Much of the future of the Red Wings will be honing their craft this season with the AHL Griffins. It will be defenseman Wyatt Newpower's role to ensure that these kids have the runway to take flight.
Saturday, in his first preseason appearance for Detroit, AHL veteran Newpower was displaying what a devastating physical presence he can bring.
Wyatt Newpower is making a very literal impact on this game. He's not thought of as being a prospect at 25, but as GR depth…

The boy hits. The boy fights. The boy shoots right.

— George Malik (@georgemalik) October 1, 2023
In the first period, Newpower drove Washington forward Nicolas Aube-Kubel hard into the boards with a punishing check. Then in the third period, he laid out Capitals defenseman Martin Fehervary with a stout open-ice hit.
"The Grand Rapids guys spoke highly of him, his compete," Lalonde said. "That was one of the reasons why we wanted to get him in. He showed a couple of those physical hits, momentum-type hits. Did a really good job."