Nate Danielson Making Case to Make Red Wings Roster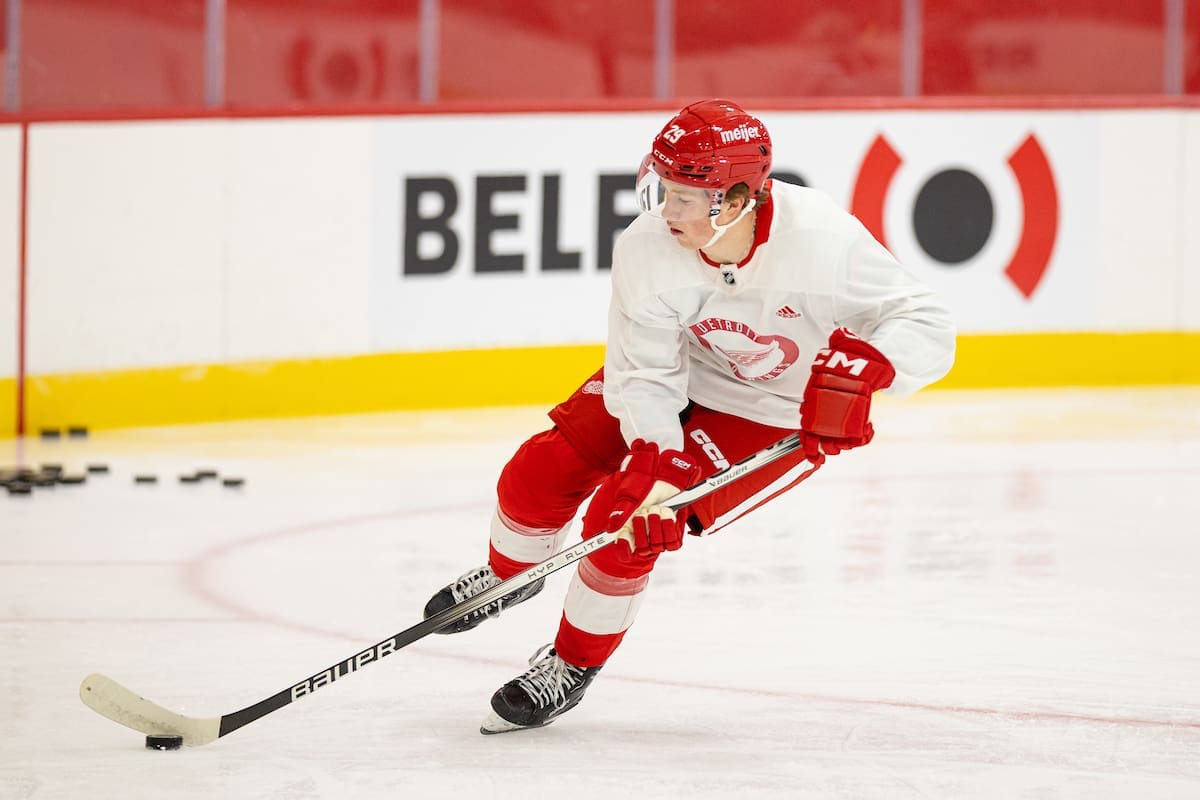 Ninth overall draft picks don't often make their teams in their first NHL training camp. Bill Lochead  (No. 9, 1974) and Willie Huber (No. 9, 1978) both played immediately for the Red Wings. But that was in the era of the 20-year-old draft.
But Nate Danielson, selected 9th overall four months ago, seems undaunted by that history.
He scored his second preseason goal in Detroit's 4-3 overtime road loss to the Toronto Maple Leafs. While Danielson may still be a long shot to make Detroit's roster, he has at least made a case to stay with the Red Wings. If he doesn't make the Red Wings, he would return to the Western Hockey League's Brandon Wheat Kings.
"Two hundred foot game, smart," Detroit coach Derek Lalonde said. "He's good in all areas. He's probably shown a little more offense and a little more poise with the puck than I had anticipated."
Lalonde used Danielson as a penalty killer on a 5-on-3 power play and Danielson won a big draw.
Danielson Beats Samsonov
Danielson had a tip-in goal against Toronto's  No. 1 goalie Ilya Samsonov. The Maple Leafs played some of their stars and regulars. Former Red Wings player Tyler Bertuzzi scored for Toronto. Jonatan Berggren and Dominik Shine scored for Detroit.
Danielson has been more proficient offensively than the Red Wings thought he would be at this stage.
"Skill, vision and poise," Lalonde said. "You can just see him not rushing plays. He'll hold on to a puck, protect it, let a play develop. That stuff usually takes time, usually takes some development, some video input in those situations, but he's got a good knack for it."
Danielson said he has always been poised with the puck.
Danielson Mistake
"It's obviously a bit different out here and things happen a lot quicker," Danielson said. "I still wanted to keep that in my game. It's something that makes me successful, so I think just trying to play confident and play how I play is the biggest thing."
Before Danielson scored, he committed a turnover that led to a Toronto goal.  As a young player, he makes some mistakes, But he seems to be learning every day of camp.
"We were gonna play him in the first game and go from there," Lalonde said, "and he obviously finds himself in game seven of the exhibition season. Every minute he gets is very valuable."
Lalonde said he doesn't know if he will play Danielson Saturday in Detroit when the Maple Leafs and Red Wings play again. The Red Wings plan to use close to a regular lineup, although Lalonde said he may include guys on the bubble. He may want one last look at them.