Latest Injury Update For Red Wings Prospect Mazur Not Promising
Mazur was hurt at outset of NHL rookie tourney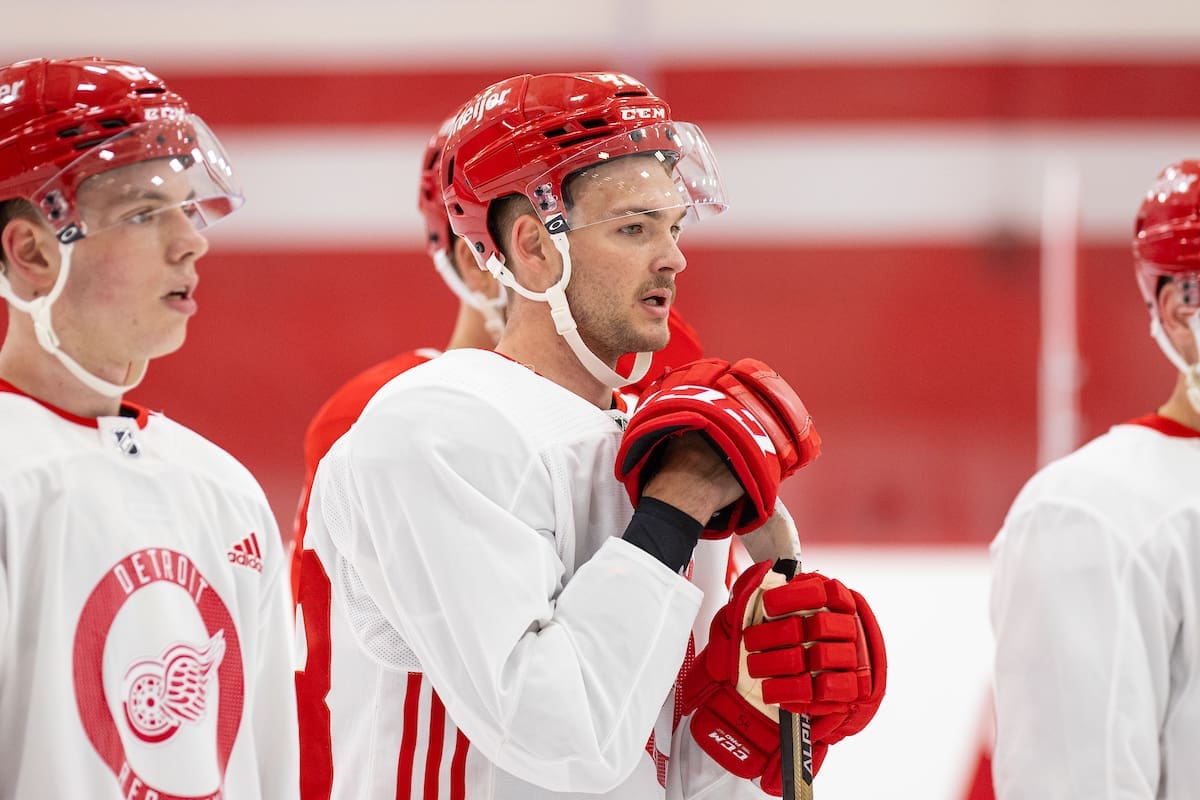 Detroit Red Wings fans shouldn't be counting on getting a look at forward Carter Mazur anytime soon. Red Wings coach Derek Lalonde was offering a update on Mazur's status and the prognosis was that the rookie winger is going to be seen on the ice later, rather than sooner.
"I do not expect him for camp," Lalonde said. "That extends through Saturday. I think we'll kind of go from there.
"I do foresee him getting some reps here in a week to week scenario."
Mazur, 21, was suffering a lower-body injury in Detroit's first game of last month's NHL rookie tournament in Traverse City against the Dallas Stars. He's not been seen on the ice since.
A dream come true, thanks to everyone who has been apart of the journey! I'm excited to sign with @DetroitRedWings and ready for the future! pic.twitter.com/La9cXnfVvn

— Carter Mazur (@Carter_Mazur) March 28, 2023
The 70th player chosen in the 2021 NHL entry draft, Mazur was turning pro late last season after two outstanding college hockey campaigns with the Denver Pioneers. Mazur was part of an NCAA title-winning squad in 2021-22. Last season he was displaying a deft scoring touch, netting 22 goals.
Mazur was a point-a-game player in an end of season stint with the AHL Grand Rapids Griffins. He was collecting 3-3-6 numbers in six games.
Red Wings Were Expecting Roster Push From Mazur
That finishing ability, combining with his agitating, Brad Marchand-style of game, had some in the organization excitedly seeing the possibility of Mazur making a challenge for a place with the Red Wings this fall.
"Carter was a player we envisioned getting five (preseason) games, pushing for a spot," Lalonde said. "You need that push from the bottom. We hoped we'd be sitting here hopefully making a very hard decision on Carter.
"Obviously, the injury didn't make that happen."
Instead, look for Mazur to be given assignment to the AHL Griffins to gain game shape while also getting his game in order.
Ohhhh yeah, legs feel great!@Carter_Mazur at #DRWDC 👌 pic.twitter.com/gXAmyBZbmV

— Detroit Red Wings (@DetroitRedWings) July 4, 2023
"Obviously, he'll start in Grand Rapids now because of the time frame of it," Lalonde said. "He'll need those reps, workload and hopefully get back to game speed as quick as possible."
Then it will be up to Mazur to carve himself out a path that eventually is leading to his recall to Detroit from Grand Rapids.
"We want those guys to push where they're forcing our hand," Lalonde said. "We'd love anyone that leaves here on the weekend or when we make those final cuts, we want them to make it very hard on us to keep us from not cutting them."