Red Wings DeBrincat Igniting Record-Setting Snipe Show
Shatters half-century old club scoring mark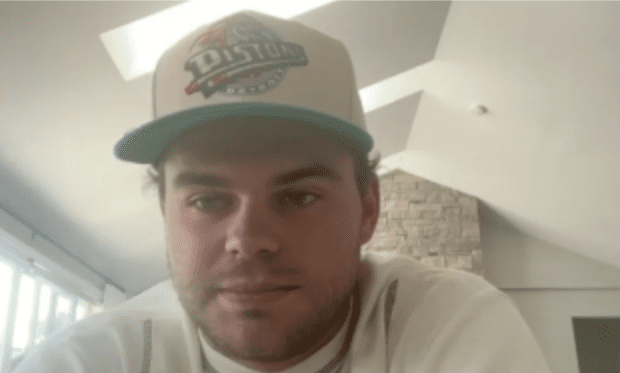 The Detroit Red Wings are off to an impressive start, but it's Alex DeBrincat who is setting a record pace. Prior to his donning of the Winged Wheel this season, no player in Detroit's 98-year franchise history had ever scored eight goals through his first six games with the team.
Surprisingly, it wasn't Gordie Howe, Ted Lindsay, Mickey Redmond, Steve Yzerman, Sergei Fedorov or any of the usual suspects who'd established the previous club mark of six goals through their first six Red Wings games. That standard bearer was Ed Litzenberger, who shot six pucks into enemy nets through the first six games of the 1961-62 campaign.
Things we like to see…

Alex DeBrincat scoring goals! #LGRW pic.twitter.com/seQ5k2s2CO

— Detroit Red Wings (@DetroitRedWings) October 22, 2023
That with eight, DeBrincat has already equaled Litzenberger's career output as a Red Wings player probably explains why you've never heard of Litzenberger. On the other hand, that DeBrincat already has accounted for an NHL-leading eight goals with Detroit assures you'll be hearing a lot about him.
"He's a finisher, he's a goal-scorer," Detroit coach Derek Lalonde said. "Goal-scorers go through hot streaks, and he's on one right now."
Netting the fifth hat-trick of his NHL career, DeBrincat was pacing the Red Wings to a 6-2 victory over the Calgary Flames Sunday at Little Caesars Arena.
"It seemed like just get it to the Cat and it was going in for him," Detroit captain and DeBrincat linemate Dylan Larkin said.
At 5-1 on the season, Detroit is off to the club's best start since also launching 5-1 in 2011-12.
DeBrincat A Big Little Man
At 5-foot-8, DeBrincat was never going to fill the role of power forward.
"Growing up you kinda learn," DeBrincat said. "I was always smaller than everyone, so I had to find different ways to score. I wasn't gonna power my way to the net. Had to find different areas."
Stealth movements, darting into seams, in essence disappearing and then reappearing in the the key scoring areas on the ice became his calling card. In actuality, DeBrincat was taking a perceived disadvantage – his supposed lack of NHL size – and turning it around in his favor.
ALEX DEBRINCAT HAT TRICK! 🎩🎩🎩 pic.twitter.com/yedOuGrvOl

— NHL (@NHL) October 22, 2023
"If I was 6-5 I'm not going to be able to hide in the weeds as much," DeBrincat said. "It's just something I've been able to do, try and find different ways to score."
He's also gone to school on the players he's called teammates over the years. It's a group that includes two Art Ross and Hart Trophy winners in Connor McDavid and Patrick Kane.
"I've played with a lot of great players in my career," DeBrincat said. "I'm trying to watch them and see where they go. Try to learn some things from every guy I've played with."
Larkin witnesses that element in DeBrincat's game every time they're on the ice together.
"Honestly, Cat, his hockey sense is off the charts," Larkin said.
Elusive Chemistry Finally Percolating
Lalonde was patient with the combination of Larkin and DeBrincat. They weren't exactly clicking as linemates during the preseason, but he figured that chemistry between his two high-end skill players would eventually bubble to the surface.
In six regular-season games together, they've combined for 11 goals and 23 points.
"We played summer league for a couple of years together and we scored a lot in that league," Larkin recalled. "We knew it would transfer into the NHL because why not, right?"
Larkin is continually amazed at how DeBrincat can cloak himself while slipping past defenders to the spots from which goals go into the net.
"Everyone knows he can score but how he finds space and how he finds pockets, it honestly took a little bit to get used to," LArkin admitted. "I hadn't played with a player who was looking in spots that not many can find.
"I've tried to just keep my eyes open for him when I have the puck, but also when he has the puck I'm trying to get open as well. It's been really nice so far."
Nice? How about record-setting? Here's some other notches DeBrincat is adding to his scorer's belt. In fact, he's just accomplished a couple of feats not achieved since the NHL's inaugural season.
DeBrincat became the second player in NHL history to record at least three points in each of his first three home games with
a franchise, joining Harry Meeking (Toronto Arenas in 1917-18). He also became the third player in NHL history with multiple goals in each of his first three home games with an NHL team, joining Joe Malone and Newsy Lalonde (the original one, not his current coach) of the 1917-18 Montreal Canadiens.