Red Wings Notebook: Raymond Proves His Value on Top Line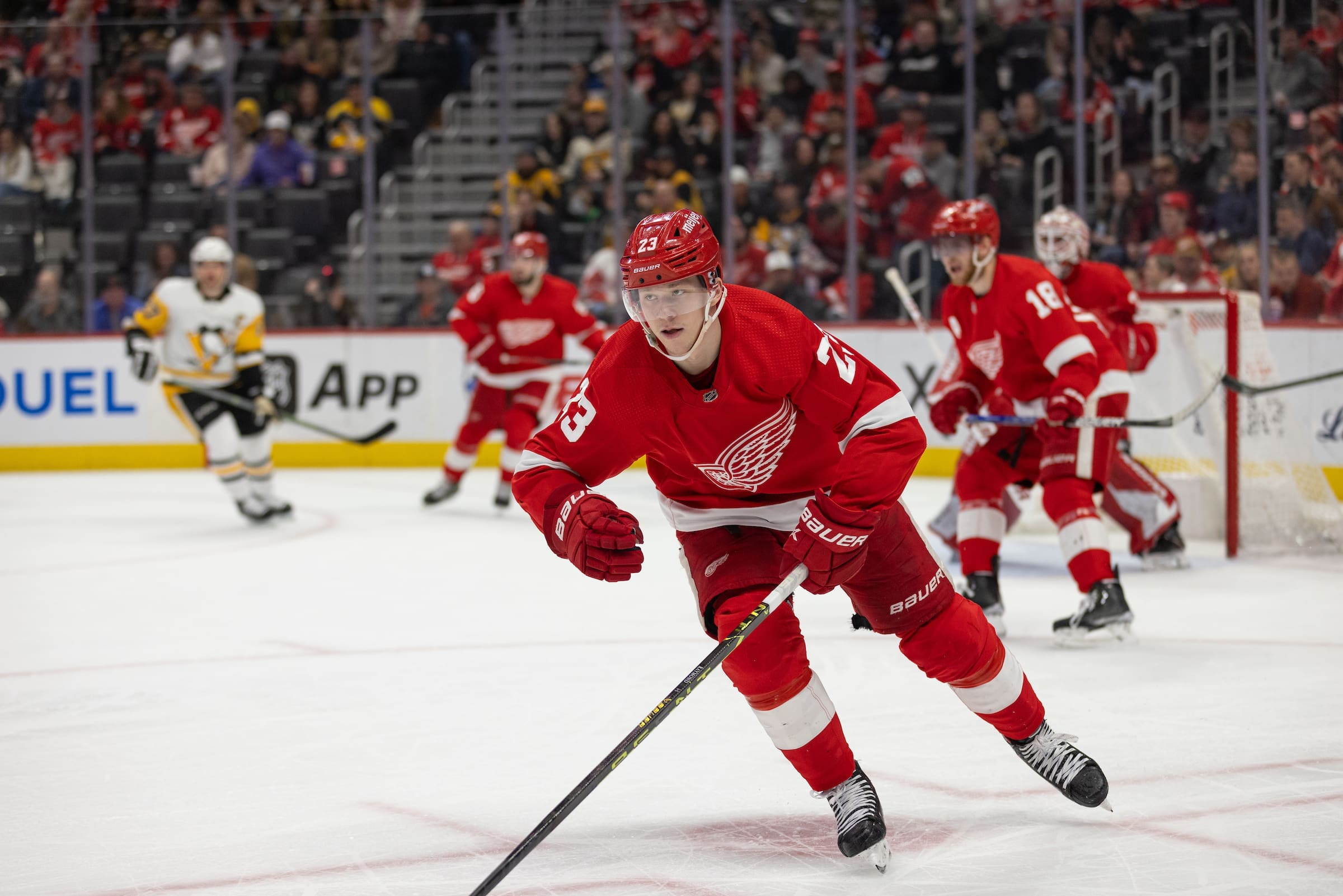 DETROIT — The Red Wings believed Lucas Raymond was playing better than his statistics showed.  Sunday night, his numbers began to catch up.
After generating two points in Detroit's five games, Raymond put up three assists to help the Red Wings club the Calgary Flames, 6-2.  He was also +4 and forced the Flames to commit a couple of penalties while trying to deal with him. Raymond now has five points in six games.
"He's got a lot of speed — he's a great hockey player," Alex DeBrincat said. "He's got a great hockey IQ. Definitely an underrated part of his game is his forecheck. and the way he gets pucks back and can put them in easy sports for us."
DeBrincat delivered his fifth NHL hat trick. Raymond assisted on each goal.
"He's let us play in the O Zone a lot more," DeBrincat said. "His speed, when he's going to the net, creates so much space. Everyone knows (Larkin) is fast, but it's definitely an underrated part of Raymond's game. He's got a great shot too.
Raymond has scored 40 goals over his first two NHL seasons, but he has only netted one in his first six games this season."He's going to start putting them in soon," DeBrincat said.
We hear from @detroitredwings forward Lucas Raymond, who has already picked up a pair of assists through 40 minutes this afternoon. #LGRW pic.twitter.com/I5sMY4blS9

— Bally Sports Detroit (@BallySportsDET) October 22, 2023
Holl Finding His Place
Toronto fans too often made Justin Holl the scapegoat for Toronto's defensive deficiencies. But coach Derek Lalonde seemed pleased with his play in the early going. He has played five of the team's six games and his plus-minus is +6.
All six of Detroit's goals against Calgary were even strength and Holl was on the ice for four of them. That gave him a +4 against Calgary to go along with three assists, his first points as a Detroit player. The three points matched his career high.
"He's a guy that will have the odd puck play that doesn't look great, but I just think he does things right," Lalonde said. "He takes pride in defending. Manages his game extremely well. He joins the rush correctly. He never goes out of himself or his game. I think that's probably why with a Cup-contending team in Toronto last year he was finding himself as one of the top minute guys there. We appreciate a lot of what he's doing for us."
Quality Start in Net
James Reimer, who shut out Columbus in his first start, launched his Red Wings career with a 92:12 minutes of a shutout streak. He stopped 29 of 31 shots, giving him 52 saves on his first 54 shots this season. His 2-0 start is important for a Red Wings team that only received nine wins from their backup goalies last season in 26 starts.
Lalonde appreciates Reimer's consistency.
"He almost reflects our team," Lalonde said. "Really strong camp and it led into his play. Two good starts. You just hope to get quality starts from the goaltending. And I'd call that probably four in a row for us, quality starts, at least three in a row.