Elite Goaltending Does In Red Wings in Loss to Jets
Detroit is 0-1-1 over the past two games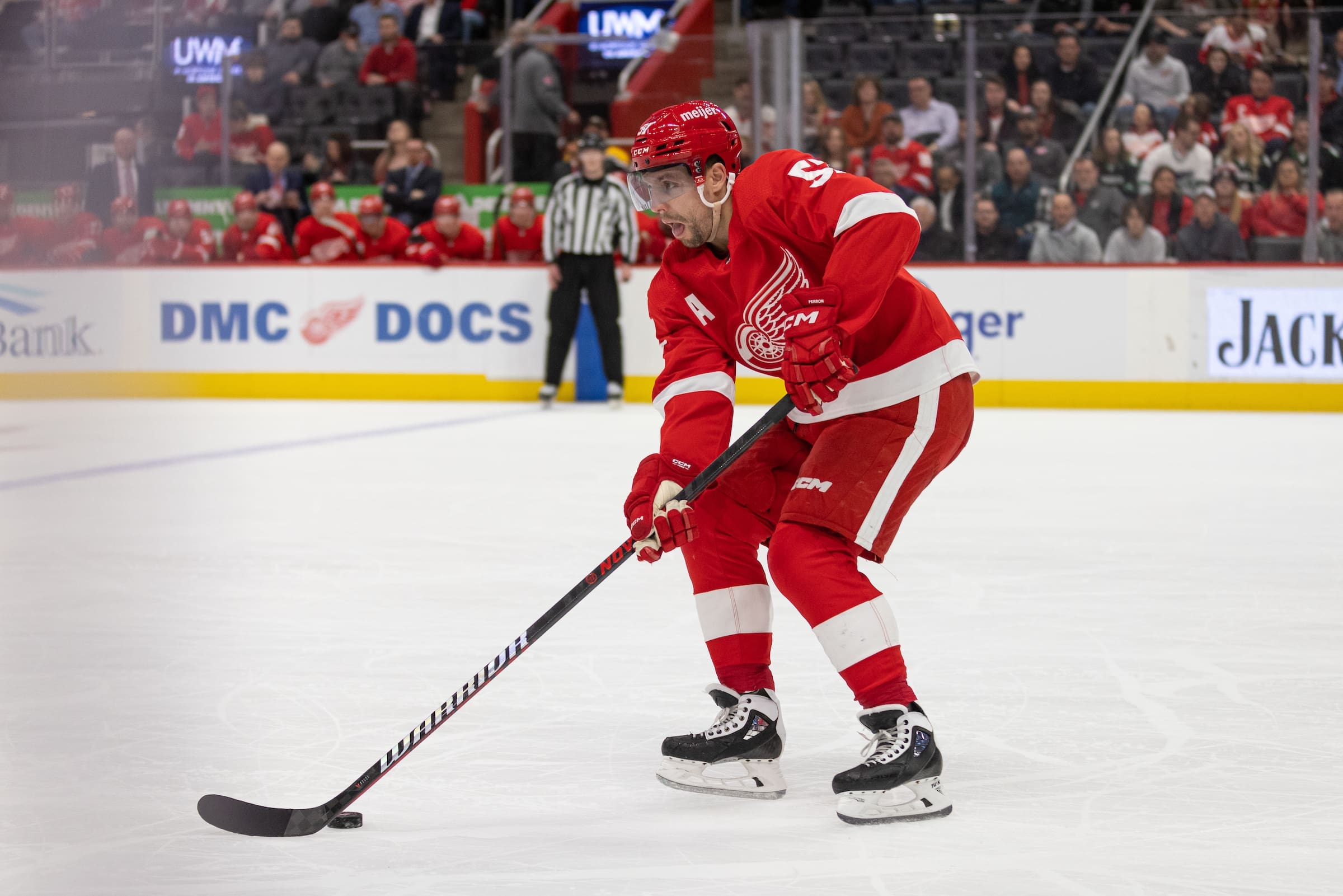 It was Star Wars night as the Detroit Red Wings were playing host to the Winnipeg Jets at Little Caesars Arena on Thursday. Funny, though, that it felt like another film tribute wouldn't been more appropriate.
Something like Back To The Future night. Then again, we've seen these Red Wings quite often before, so no one was anxious for another sequel.
A 4-1 loss to the Jets was featuring several aspects commonplace to Detroit's brand of hockey in recent years. There was the inability to finish, the lack of traffic to the net, and in their own end, too much chaos in terms of getting the puck to safety.
Utlimately, though, if you're looking for the biggest difference between Thursday's game and the previous Red Wings contests, it all starts with the guy between the posts for Winnipeg. Jets goalie Connor Hellebuyck was the first elite NHL puckstopper that Detroit has faced this season, and he played like a guy who's won the Vezina Trophy.
Money Puck's tracking (@MoneyPuckdotcom) states that Connor Hellebuyck saved 2.32 goals above expected (GSAx) against the #LGRW.

He has returned to form after a shaky start.

— Connor Hrabchak (@ConnorHrabchak1) October 27, 2023
"That was probably the No. 1 difference in this game," Detroit coach Derek Lalonde said. "Hellebuyck in a pretty even game. I think probably we'll look back analytically at the underlying numbers and they'll say it was an even game, maybe a little in our favor.
"He was the difference tonight."
Goals Harder To Come By For Red Wings
While fashioning a 5-1-1 mark to launch the NHL campaign, Detroit was counting 34 goals. The Red Wings probably were seserving of more than the only tally there were managing on Thursday, but that's what high-end netminders do for the their teams.
They steal games. Hellebuyck made 35 saves on the night, none bigger than the five pucks he was pushing aside while Detroit was enjoying an early third-period power play down 2-1 on the scoreboard.
"I thought we had looks all game," said Red Wings forward Lucas Raymond, scorer of the team's only goal. "We had chances to score 3-4 goals."
With all due respect to Joey Daccord, Dan Vladar, Spencer Martin and even Joonas Korpisalo, Tristan Jarry and Vitek Vanecek for that matter, while they may play in the same league as Hellebuyck, they aren't playing in Hellebuyck's league, if you catch our drift.
In the next two games, the Red Wings can anticipate more of the same. Saturday in Boston, it's likely that they'll be seeing Vezina winner Linus Ullmark. Then Monday at the New York Islanders, it's almost certainly going to Ilya Sorokin, along with Hellebuyck last season's other Vezina finalist.
Detroit Must Get To The Net
After scoring at least three goals in every game this season, Hellebuyck held Detroit to a solitary tally. If they are seeking better puck luck over the next two games, going to the net – another Red Wings bugaboo in season's past – must become Job 1.
"A little more traffic," Lalonde said. "That's probably the one knock. As good as (Hellebuyck) was, we just didn't do enough to make it harder on him. And even our one goal, give Razor credit, he was committed in going right to the net. He finishes off a rebound from being right on top of that blue paint.
Razor-sharp rebound. 🪒 pic.twitter.com/Z711Ky6ZTq

— Detroit Red Wings (@DetroitRedWings) October 27, 2023
"Any good goalie, you need to crowd him, take away his space. Would have liked a little more volume to the net, maybe some defensive races, a little bit of a shot scramble."
It's also incumbent on all four of the team's line to be following this blueprint. It isn't enough for merely the scoring lines to be pushing this envelope.
"We got the Larks-Razor-Cat line that kind of create all kinds of chances in many ways — rush, cycle, all that stuff," Detroit forward David Perron said. "I think the other lines, we can do a better job of maybe having more mentality to work the puck behind the net and kind of create momentum that way. If not goals, then chances and things like that."