Red Wings Pick Buchelnikov Happy to be in KHL
Detroit prospect nets second KHL goal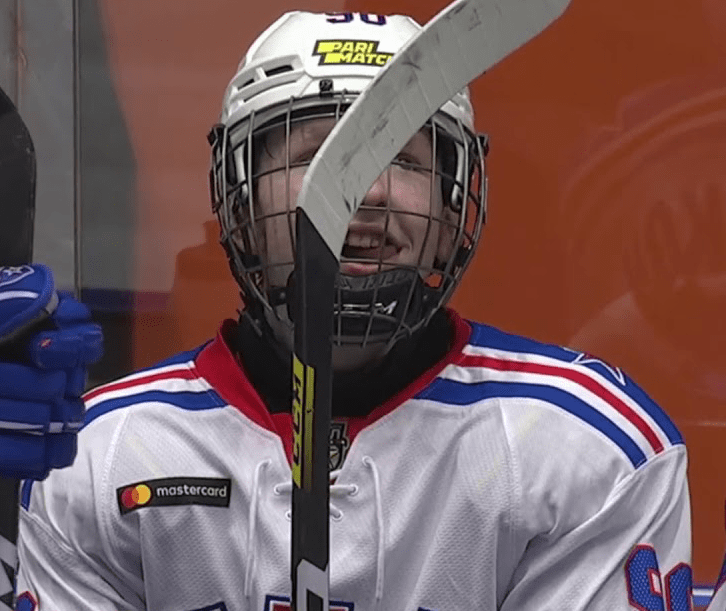 While he certainly wasn't expecting to move 4,000 miles in order to make it happen, ultimately Detroit Red Wings prospect Dmitri Buchelnikov is just happy that it happened. He's back in the KHL, playing regularly in one of the best leagues outside of the NHL.
"Playing in the KHL is a big chance, a big opportunity," Buchelnikov tells Evgeniy Kozinov of Russian website SportExpress.ru.
In his ninth game for his new team Admiral, Buchelnikov, selected 52nd overall by Detroit in the 2022 NHL entry draft, scored with 2:30 left in regulation time to tie the score 2-2 in Wednesday's game against Traktor. It gave him a goal and an assist on the season.
BUUUUUUUUUUCH TIES IT ‼️
🚨 Dmitri Buchelnikov #ADM #LGRW #BuchSZN
2-2 #KHL pic.twitter.com/1PaVqXZ1uy

— Hockey News Hub (@HockeyNewsHub) November 1, 2023
Named the game's third star as Admiral ultimately lost 3-2, Buchelnikov came close to being the OT hero.
"We could have decided the outcome of the match in overtime," Admiral coach Leonid Tambiev told KHL.ru. "Dmitri Buchelnikov had a great chance, but we were a little unlucky."
Buchelnikov Leaves Dog Days Behind
Starting the season with SKA Neva of the VHL, the Russian second division after failing to make the KHL grade with SKA St. Petersburg, Buchelnikov remembers exactly where he was and what he was doing when got the news that he was going up to Russia's version of the show. SKA was sending him on loan to Admiral.
"While I was walking the dog in the forest, my agent called me and said that I was going to Admiral," Buchelnikov recalled. "I was a little confused, but of course I was happy. I waited a month and a half and didn't know where they would send me.
"I was happy because not everyone gets such a chance, and we need to take advantage of it."
#BuchSZN 👐
🚨 Dmitri Buchelnikov SO #ADM #KHL #LGRW https://t.co/6VPrRbolC8 pic.twitter.com/vV3zBhK2k9

— Hockey News Hub (@HockeyNewsHub) October 26, 2023
Vladivostok, home city of Admiral, is in Eastern Russian, more than 4,000 miles from St. Petersburg. But Buchelnikov is thrilled to call it home, even if it's only a temporary situation.
"Impressions from the new team are, of course, only positive," Buchelnikov said. "I try to show more skillful, mature and correct hockey from match to match."
Wednesday, his determination finally paid dividends in the form of a lit red lamp.
"They let me out at the end of the game and I was able to score," Buchelnikov said. "It feels like they are letting me play and improvise. I took the puck on the blue line, made a spin move, passed it, got open and shot. Everything is simple."