Red Wings' Walman Injured Vs. Toronto; Edvinsson Next Man Up?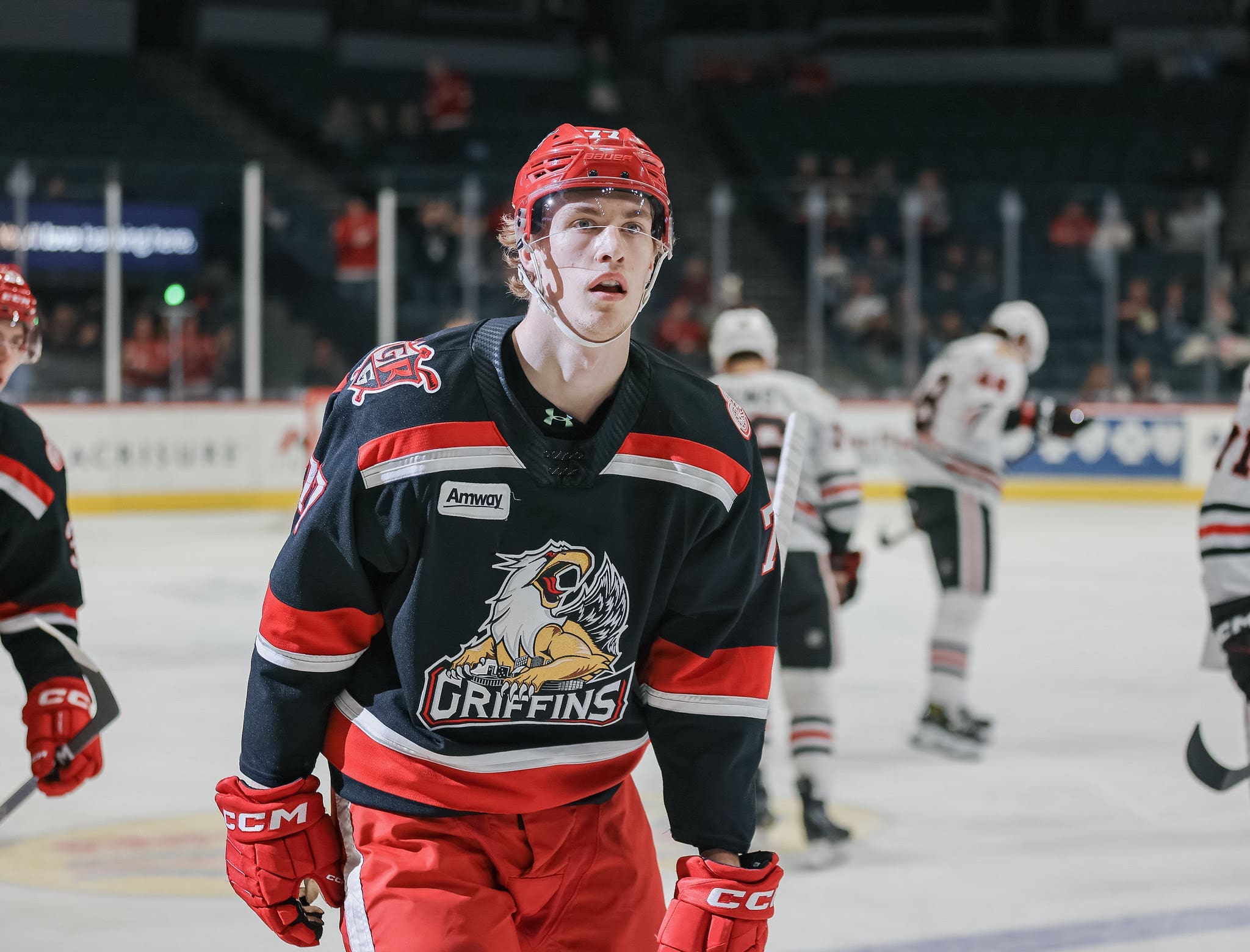 The Detroit Red Wings had no post-game update on the status of defenseman Jake Walman who left the game against the Toronto Maple Leafs in Sweden with what appeared to be an upper body injury.
Walman looked in considerable pain as he was helped off the ice after crashing into the net during the second period. He did not return to the game.
"I don't know," Detroit coach Derek Lalonde said. "Haven't seen the trainers. "The trainers came in after the second and said he was done for the night. "
If Walman misses games, it could open the door for prospect Simon Edvinsson to be called up from the Grand Rapids Griffins. The Red Wings 6-foot-6 2021 first-round pick has posted three goals and five points in 11 games for the Griffins. Edvinsson's plus-minus is -4.
That was a goal.  At least, it should've been.

Detroit Red Wings defenseman Jake Walman toe-picked on the goal line, crashing into his net and knocking it off the moorings just prior to a shot from Toronto Maple Leafs' Mitch Marner. Here's the rule: https://t.co/VObpT5a7ue pic.twitter.com/E7IW6tutvi

— Scouting The Refs (@ScoutingTheRefs) November 17, 2023
Loss of Walman Would Test Detroit
Losing Walman for any length of time would test the Red Wings' depth. Over the past year, Walman has established himself as a consistent performer and a good fit as Moritz Seider's defensive partner.  Walman has seven points in 16 games this season in an average of 21-plus minutes of playing time per game.
Over the past 79 games with the Red Wings, Walman is +15.  His Corsi is 50.6 this season. He helps at both ends of the ice.
The added aggravation of losing Walman is that Jeff Petry hasn't had the kind of start the Red Wings hoped he would. The Petry and Ben Chiarot tandem was on the ice for four goals in the 5-4 overtime loss to the Ottawa Senators. Petry was scratched Friday for the Toronto game.
The best result for the Red Wings would be a day-to-day situation for Walman. The Red Wings don't have a NHL veteran defenseman stashed in Grand Rapids like they have in the past.
Edvinsson is the Red Wings' best defensive prospect in Grand Rapids, and has nine games of NHL experience. The other possibility would have been Albert Johansson who is the team's second-best defensive prospect with the Griffins. However, he is injured.