Sandin Pellikka Can Be Top Scoring U19 SHL Defenseman in 40 Years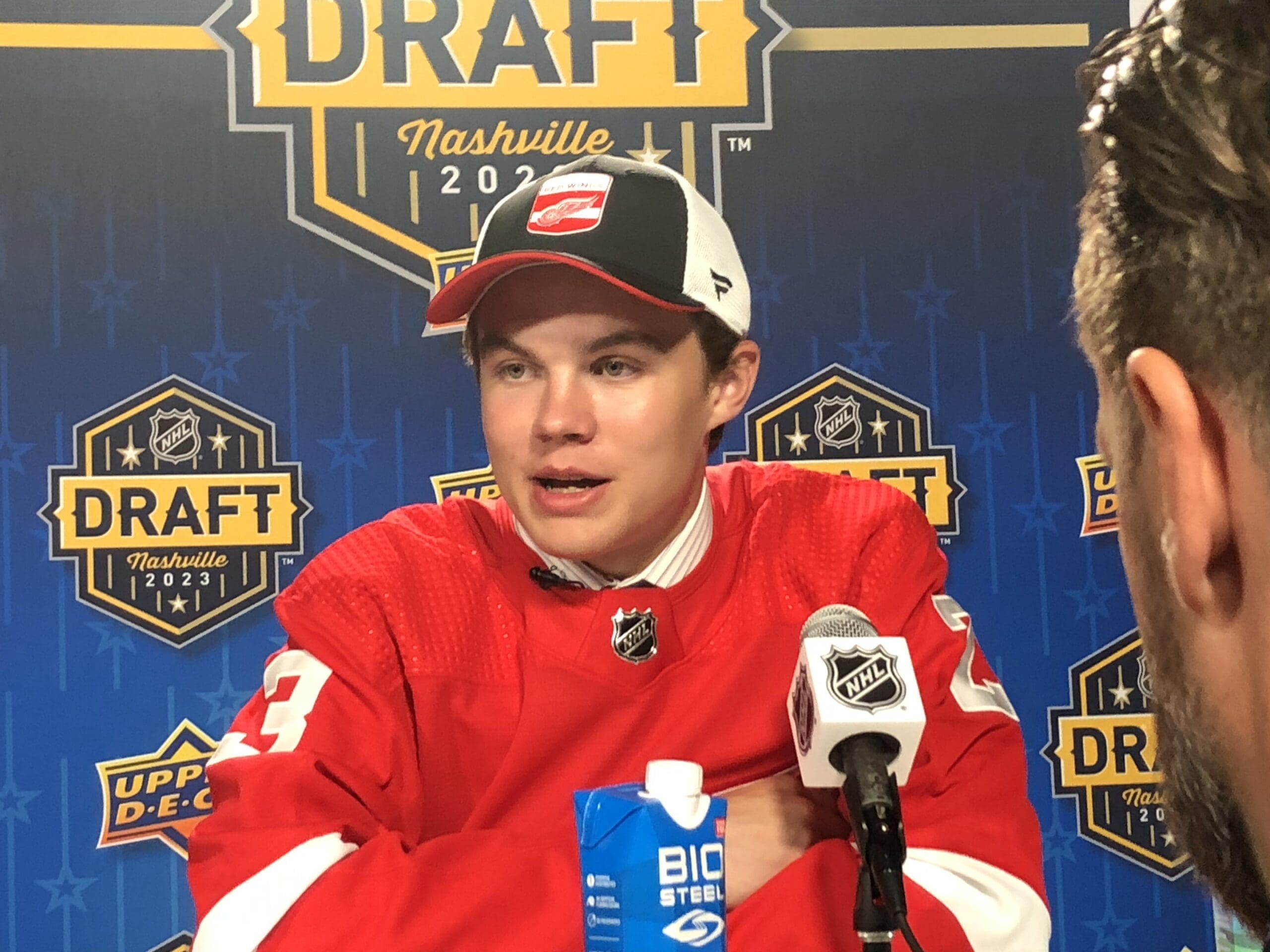 Detroit Red Wings 2023 first-round pick Axel Sandin Pellikka is on his way to accomplishing a Swedish Hockey League feat that no teenager has done in four decades.
After scoring his seventh goal Friday, Sandin Pellikka is on course to become the first player under the age of 19 to score eight or more goals in a season since former Red Wings defenseman Ulf Samuelsson netted nine goals for Leksands IF in 1982-83, That came after the Hartford Whalers drafted him in the fourth round of the 1982 NHL draft.
"We are very happy that he is doing so well," Detroit general manager Steve Yzerman told Sportbladet.se. "Who knows when he can play in the NHL, but he looks like he's going to be a really good player."
Yzerman added, to Sportbladet: "It is only a matter of time before he has a positive impact on the team."
Axel Sandin Pellikka had a goal and two assists today. He's now up to 7 goals on the season.

Only two U19 d-men have ever scored more than 7 goals in a SHL season and the last time it happened was Ulf Samuelsson in 1982-83.

— IcehockeyGifs (@IcehockeyG) November 17, 2023
The Red Wings don't have timelines for prospects. Yzerman's position: players are ready when they are ready.  However, if you look at Yzerman's managerial history, he likes to see Swedish players perform well at home and then play well for the Grand Rapids Griffins.  Even Moritz Seider played one season in Sweden and one season in Grand Rapids.
Ready at 20?
If Sandin Pellikka follows that pattern, you can guess 2025-26 for his shot at making the Red Wings. He would be 20 then. Vancouver's Quinn Hughes had just turned 20 when he started playing full time for the Vancouver Canucks. Hughes and Sandin Pellikka are of similar size and are known for their puck skills. Boston's Charlie McAvoy was 19 when he started playing regularly with the Bruins. But his playing style isn't similar to Sandin Pellikka's. Seider was 20 when he become a fixture on Detroit's defense. But Seider and Sandin-Pellikka are an apples to oranges comparison. Sandin Pellikka is listed at 5-foot-11, 180.  Seider is 6-foot-3, 205.
The caution for a Sandin Pellikka playing in the NHL at age 20 is that Simon Edvinsson is 20 and he's still in Grand Rapids. But, he's a different kind of player than Sandin Pellikka. Edvinsson is an illustration of the idea that prospects are ready in Detroit when Yzerman assesses they are ready.
The Red Wings used the New York Islanders' pick (17th overall) to land Sandin Pellikka. They used their earlier first-round pick to select Nate Danielson (ninth overall in 2023). The Red Wings secured the Islanders pick from the Vancouver Canucks in the Filip Hronek trade.
"We were very happy that he remained as the 17th player," Yzerman told the Swedish media. " We got a little nervous and didn't think he would stay much longer. It's a slightly different player than what we have in our organization. He's an offensive defenseman who's good at moving the puck and we don't really have that type of defenseman. "