Red Wings Don't Know Who to Play in Goal
Red Wings have used three goalies in past three games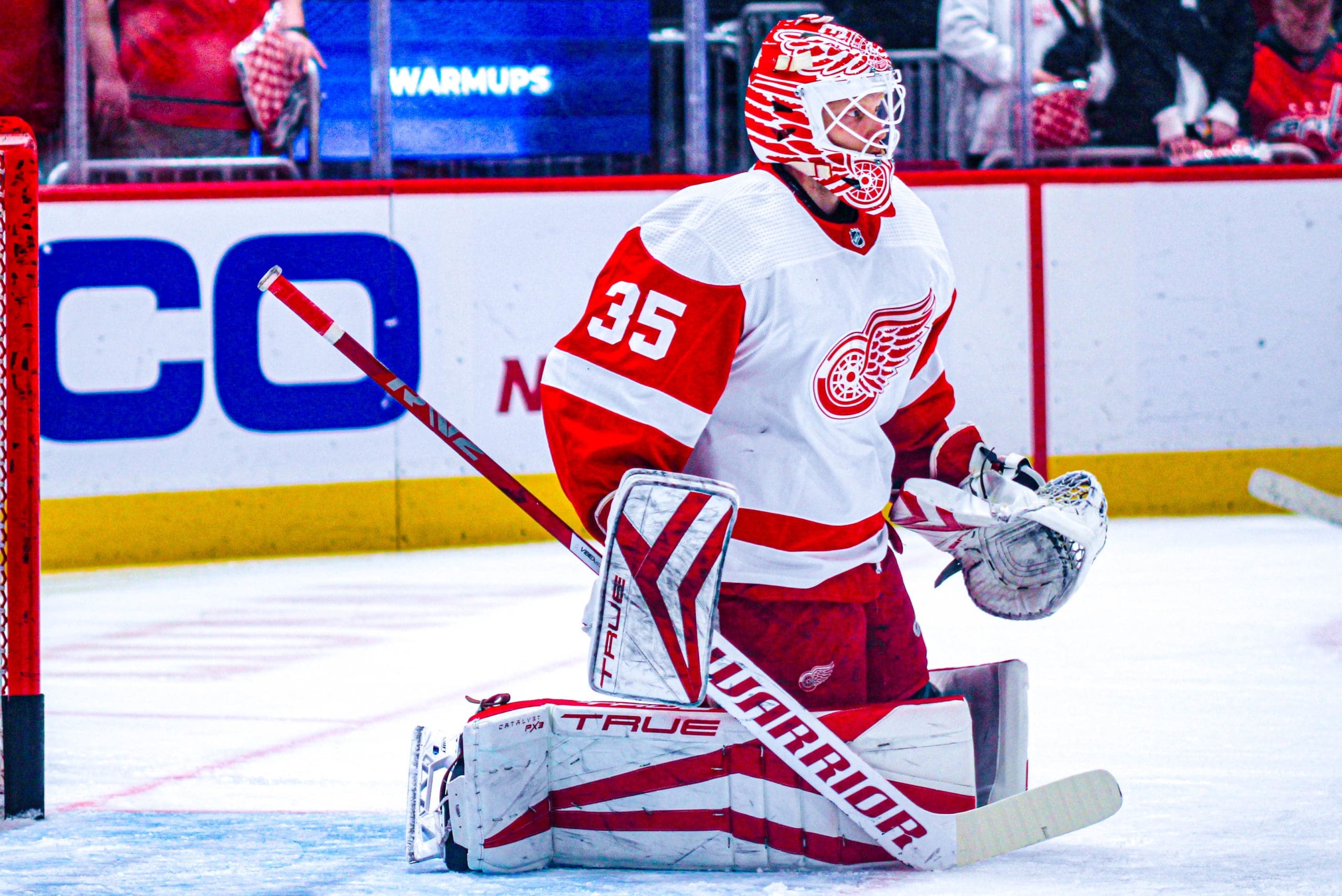 Two events from recent days make it abundantly clear how dire the goaltending situation currently is for the Detroit Red Wings.
First of all, the best goalie with a Red Wings connection in recent days is a former Red Wings netminder. Alex Nedeljkovic scored a goal while on an AHL conditioning stint. Returning to the NHL, he was backstopping the Pittsburgh Penguins to a 3-0 win over the reigning Stanley Cup champion Vegas Golden Knights.
Then the supremely confident Nedeljkovic, who's from Parma, Ohio, wore a Myles Garrett Cleveland Browns jersey while facing the Pittsburgh media post game. It was his none-too-subtle way of pointing out that the Browns downed the Pittsburgh Steelers 13-10 on Sunday.
Pittsburgh Penguins goalie and Parma native, Alex Nedeljkovic repping a Myles Garrett jersey in the locker room in Pittsburgh after their win tonight.

Legendary move. 😂

(via @Real_RobRossi) pic.twitter.com/XkAGBw0YmG

— Nick Talks Browns (@nicktalksbrowns) November 20, 2023
As for the guys paid to stop pucks in Detroit, none are showing that level of confidence. This would explain why it is that while Red Wings coach Derek Lalonde lists three numbers on his 23-player roster, he doesn't know which one he should put between the pipes for Wednesday's game against the New Jersey Devils.
Detroit's No. 1 goalie status has gone from Ville Husso to who knows?
"We'll still decide what we'll do going forward, even Wednesday, with Ville not seeing the ice for a little bit, not being on the trip (to Sweden) with us," Lalonde said of his netminding situation.
Husso Back On Ice With Red Wings
Husso returned to Detroit from Sweden after his wife Hayley gave birth to their daughter Emmi. Back at work on Monday, Husso knows he needs to step up his game.
"I'm still winning games, so I think that's the big thing, but of course the goals, you don't want to let four goals in every game," Husso said.
Though he's won three of his past four decisions, Husso has given up three or more goals in nine of 10 starts, and four or more in each of the past three. James Reimer is winless (0-2-2) in his last four starts, giving up eight games over the past two games.
Okay, we see you out there Alex Lyon! 👀#LGRW pic.twitter.com/lKDzp8YKQA

— Bally Sports Detroit (@BallySportsDET) November 17, 2023
Alex Lyon made his season debut in Friday's 3-2 loss to Toronto, surrendering all three goals in the third period.
If anything, it's sounding as though Lalonde might be leaning toward going back to Lyon again on Wednesday.
"All along we were confident to play him at any time," Lalonde said of Lyon. "He proved very well for us. He looked confident.
"When a goalie looks confident, when he's stopping the puck, when he's handling the puck, I think he brought confident into our group, hence the 2-0 lead after 40 minutes against a very good offensive team. He'll certainly be in the conversation."