Red Wings' Larkin Incidents Show NHL Has A Policing Problem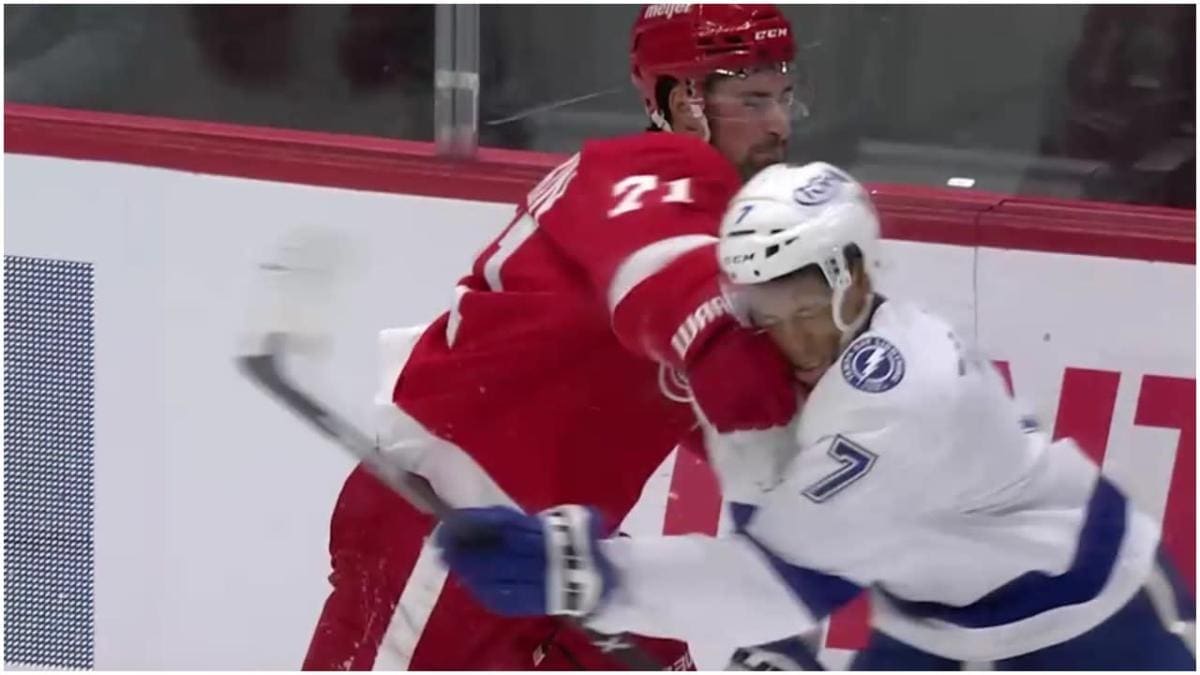 Looking back, Dylan Larkin is the first to admit that two wrongs don't make a right – especially when it involves a right hook.
"I can't lash out like that," Detroit Red Wings captain Larkin said of his reactive punch to the face delivered to Mathieu Joseph. Larkin responded in anger after Joseph shoved him head-first into the boards during Detroit's season opener against the Tampa Bay Lightning.
Larkin was assessed a match penalty for the foul and was issued a one-game suspension by the NHL.
"The one-game suspension was warranted," Larkin said. "When hits like that happen, you got to do something different – try to fight him or whatever.
"I think it was too aggressive and kind of lost my cool for a split-second, but I was very much disappointed in myself after and disappointed for the team."
He's not wrong in that assessment.
Larkin went on to express his larger view of the matter. It was, after all, his first NHL regular-season game since a neck injury, the result of a cross-check by Dallas Stars captain Jamie Benn last April resulted in a summer of rehab for his Detroit counterpart.
This cross check from Jamie Benn, that hospitalized Larkin & ended his season, wasn't penalized or reviewed by @NHLPlayerSafety.

Joseph's hit from behind on Larkin wasn't even penalized.

NHL "player safety" is a sham. Larkin had to do something. #LGRW pic.twitter.com/l8YokC3Tmm

— Ryan Hana (@RyanHanaWWP) October 15, 2021
They claim that your life will flash before your eyes in your final moment on earth. For Larkin, in the instant when he tumbled into the boards, his life for the past 6-7 months flashed before his eyes. He thought about a summer without golf, without boating with his friends, and he snapped in anger.
That's entirely understandable.
"I also think enough is enough," Larkin said of his punch. "I've been through some tough times. I felt a pain and immediately thought 'Here we go again,' and I got up and reacted."
Again, he's not wrong . . . even though NHL disciplinarians ultimately deemed him to be.
Larkin Left With No Choice But to Respond
Here's the problem – by not punishing the offenders of the initial foul, the NHL is leaving the victims with no alternative but to take the law into their own hands.
When it comes to biblical phrases, an eye for an eye is much more popular at the rink than turn the other cheek.
The league does have to mete out discipline to combat vigilante justice. However, they look foolish doing so while allowing the original offender to continue to skate free.
"When I talked to my son . . . when he was asking me questions like 'Why is the punch with a glove on more dangerous than the other one?' I had to explain to him that it's not," Red Wings coach Jeff Blashill said.
Someone needs to be providing that information to the NHL Department of Player Safety, because the players they are supposedly protecting aren't getting it.
"It's a dangerous play," Larkin said, referring to both cheap shots he incurred – the one from Benn and the one from Joseph. "Guys get hurt. I got hurt. I think everyone is on board that something needs to happen.
"Whether there's more respect, or a call or a new penalty, I don't know."
Larkin allowed that he and Joseph exchanged apologies via text. Is that going to keep Joseph from running the next player whose name and number he can read and he shoves them into the boards?
Wow. @jamiebenn14 sure does like hitting ppl on the back, huh? pic.twitter.com/LaKUp2fkvp

— Anney (@unoriginalflail) October 17, 2021
Benn also skated from from his cross-check to Larkin's neck off a lost faceoff, the one that ended Larkin's 2021 season. In Sunday's game against the Ottawa Senators, Benn delivered a similar cross-check to the back and neck area of Ottawa's Shane Pinto.
When there's no punishment, they'll see fit to continuing to commit crimes.
NHL's Parros Seems To Want Wild West
Since former NHL enforcer George Parros took charge of the NHL's Department of Player Safety, mayhem seems to be favored over safe spaces.
Remember last season, when Washington Capitals serial offender Tom Wilson ran roughshod over the New York Rangers? All Wilson got was a fine. When the two teams met a few nights later, it was part MMA, part Wrestlemania and part barroom brawl.
A one-game suspension to Wilson likely avoids all that chaos.
Perhaps Parros' goal is to return the game to a place where there are again prominent roles for players of his ilk.
If so, it appears to be working.
The Rangers beefed up by adding Ryan Reaves. Detroit signed Luke Witkowski. One of the reasons why Jack Johnson earned a contract with the Colorado Avalanche from a pro tryout is his willingness to drop the mitts.
The outside view is that the NHL looks to be moving in a direction where they are rolling out the welcome mat and accommodating the return of on-ice violence. And that means that they'll be forcing more players to make like Larkin and take the law into their own hands.