Red Wings GM Yzerman Building More Than Just a Team on the Ice
When Steve Yzerman started rebuilding the Red Wings, it wasn't just about getting great players. It was about getting the right ones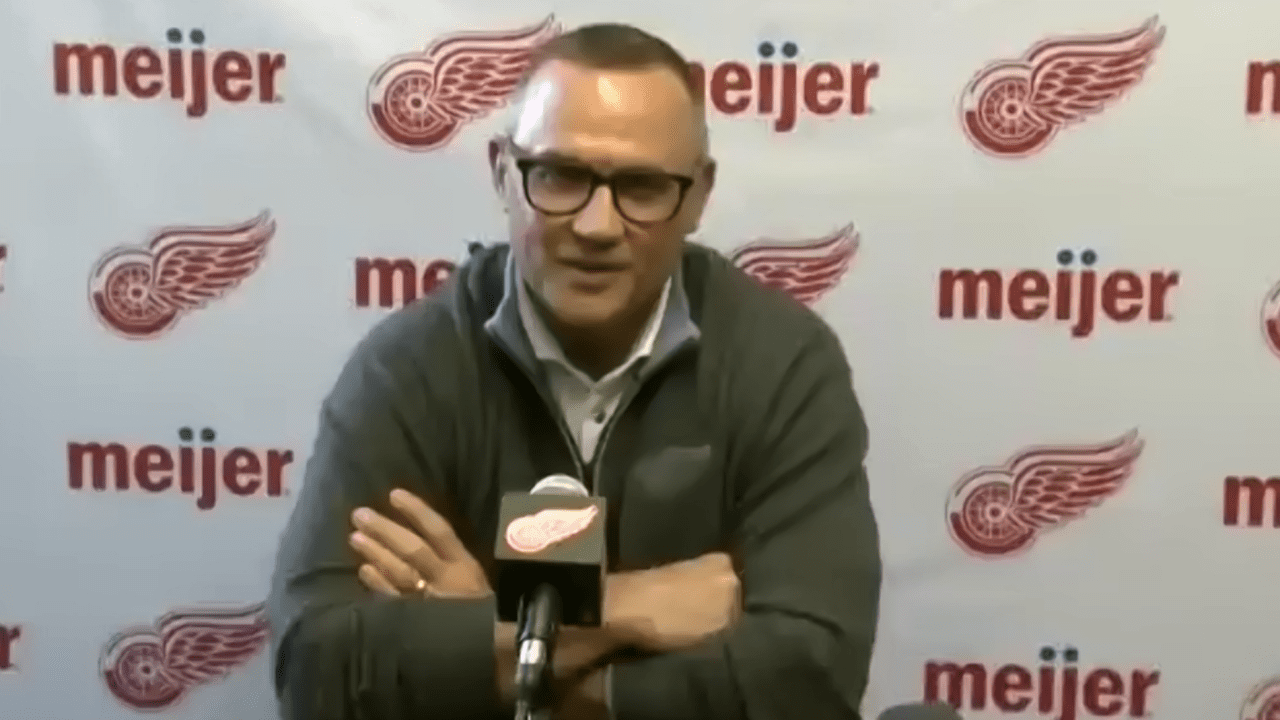 It wasn't that Detroit Red Wings defenseman Moritz Seider won the Calder Trophy that stood out. It was what he said, and how the organization reacted, that said more than words could.
Since taking over in 2019, general manager Steve Yzerman stressed the need for time and patience in building from scratch. When given credit for building Tampa Bay, some critics point out that he started with Victor Hedman and Steven Stamkos.
It's true.
So it made the job more daunting with players who were not as proven and were still very young. But Yzerman was insistent on having that patience to build correctly.
👏👏👏 pic.twitter.com/DMqvaIoUzy

— Detroit Red Wings (@DetroitRedWings) June 21, 2022
"We're going to do things a certain way," Yzerman said when asked about how long the rebuild would take.
That way became known as the "Yzerplan" with fans and analysts. It kicked into high gear when he took Seider with the sixth overall pick in his first draft as Detroit's general manager. It wasn't the blockbuster pick at the time, but it certainly caught everyone's attention.
But there was more to the pick than just selecting a good hockey player. It was about getting the right guys with the right make up that fit the "Yzerplan."
Yzerman Choosing Seider Set the Tempo for the "Yzerplan"
Reading carefully what Seider talked about, he values the team and the organization above his own accolades. It can be seen as him saying the right things by the organization. But taking the long view throughout the season, there's more to it.
DHN's Bob Duff wrote about how Seider is already becoming an important voice in the locker room. At 21. Yzerman watched what it took in Detroit, the years of missing the playoffs followed by being oh-so-close only to be reminded how they were falling short.
He saw that it went beyond skill. It was a little bit of everything. Sacrifice. Team first. From Darren McCarty avenging the hit on Kris Draper to Yzerman himself demanding accountability of himself first in front of the entire locker room. There were personalities and make up that finally ended a 42-year drought and transformed Detroit into a model organization.
Slowly but surely, he's putting the pieces in place to restore the glory.
Leadership and Team First
In the midst of Seider winning the organization's first Calder Trophy in 53 years, the top brass including owner Chris Ilitch and Yzerman were in Tampa to surprise Seider prior to the award announcement. Beyond that, captain Dylan Larkin surprised him as well and sat along with him during the ceremony.
To Mo.

Love, The Boys pic.twitter.com/m7TgIUCVOb

— Detroit Red Wings (@DetroitRedWings) June 21, 2022
Larkin doesn't have to do that. He had a brutal season in 2021 with a severe injury that took time to recover from and ended this past season injured after having an outstanding season. An easy offseason to recuperate would be understood.
Yet there he was–supporting his teammate and friend. Reinforcing the culture Yzerman is building player by player.
"Yeah, it was a really cool surprise, and also the whole organization flew them here," Seider said "It's really cool to see that not only your captain and teammates have your back but the whole organization.
I'm very happy Larks sat next to me. It was really cool to have him."
Beyond that, there were tributes from the past legends–Dominik Hasek and Sergei Fedorov sending their well wishes. The latter of course sending the fanbase into an absolute tizzy seeing a coaching hopeful reach out.
BetMGM Sportsbook
States: All States Where Legal
GET THE APP
SIGNUP BONUS
UP TO $1,000!


Up To $1000 Paid Back in Bonus Bets
BET NOW
It was past and present uniting to honor Seider's accomplishment. But his focus always went back to the organization.
"Sometimes it's good to reflect on your personal goals," Seider said.  "I think for us as the Detroit Red Wings, we want to build and want to push each other forward."
So yes, Seider will enjoy the accolades. But at the end of the day, it's all about the organization. Just as Yzerman stressed as a player in Detroit's past glory, and is now constructing for the future.
Finding not just the great players, but the right ones. On and off the ice, that will once again bring Detroit back to glory.