Red Wings Legend Fetisov Taking Aim At IOC
Fetisov wants Russian athletes to complete in Olympics under own flag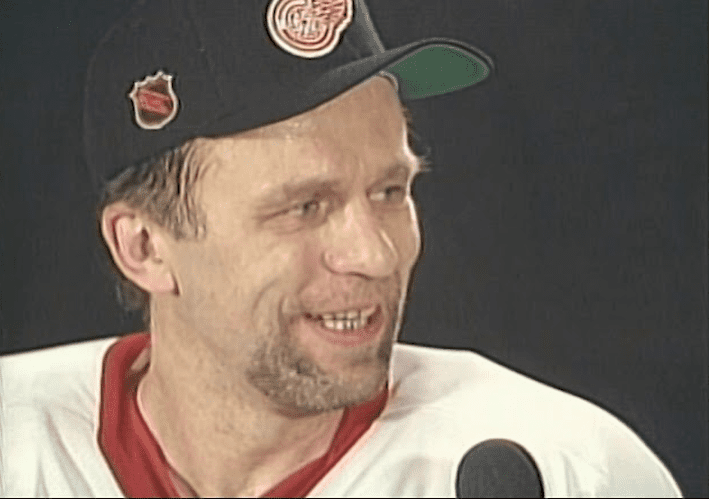 Earlier this week, legendary former Detroit Red Wings defenseman Viacheslav Fetisov was aiming his virtiol at former Detroit goalie Dominik Hasek. Now, he is setting the sites of his verbal barrage directly at the International Olympic Committee (IOC).
Fetisov is a deputy of the Russian Duma. Generating his anger are suggestions that Russian athletes may only be given permission to be involved in competion in the Olympic Games if they are competing under an independent banner.
The Russian Five in profile. l-r Slava Fetisov, Sergei Fedorov, Vladimir Konstantinov, Slava Kozlov, and Igor Larionov pic.twitter.com/zggzuHxlZK

— Jen (@NHLhistorygirl) July 8, 2023
"The status that we are offered, almost like refugees, is a humiliating story," Fetisov told Russian website sports.ru. "Of course, everyone can make their own decision, they can live with it … But today, I think we should be there with a flag and an anthem."
This is a proposal that Hasek was putting forth. Recently, the European Parliament was granting the legendary Czech goalie the chance to be addressing them in Strasbourg, France. Hasek is of the opinion that Russian athletes should only be given permission to be eligible for participation in international sporting competitions if they are renouncing Russia's invasion of Ukraine.
A number of Members of the European Parliament (MEP) later were expressing that they were in agreement with Hasek's proposal. This is just one of the issues that Fetisov is speaking out against.
Fetisov Says Russian Athletes Are Victims Of Brainwashing
Known as Papa Bear, Fetisov is a winner of two Stanley Cup championships during his time with the Red Wings. He was also earning enshrinement into the Hockey Hall of Fame, Fetisov believes that Russian athlete are facing manipulation from the international sports community.
"They brainwash us," Fetisov said.
He wonders how Russians will be eligible to compete in the Olympic Games at this late stage. Qualifying events are taking place right now, or have already taken place. Bans are preventing Russian athletes for events from taking part in any of these events.
FanDuel Sportsbook Promo #1
ALL STATES WHERE LEGAL
GET THE APP
SIGNUP BONUS
$1000 No Sweat Bet


$1000 No Sweat Bet
BET NOW
"Now there are qualifying starts, but we do not participate in them," Fetisov said. "How will they let us into the Games? If they have reserved places for us, what will they say later?
"The selection is underway, in many sports it is already over. Artistic gymnastics, there is also one competition left. How will they allow Russian athletes? They powder our brains."