Zadina Believes Red Wings Brought Him to NHL Before His Time
Seeking fresh start with San Jose Sharks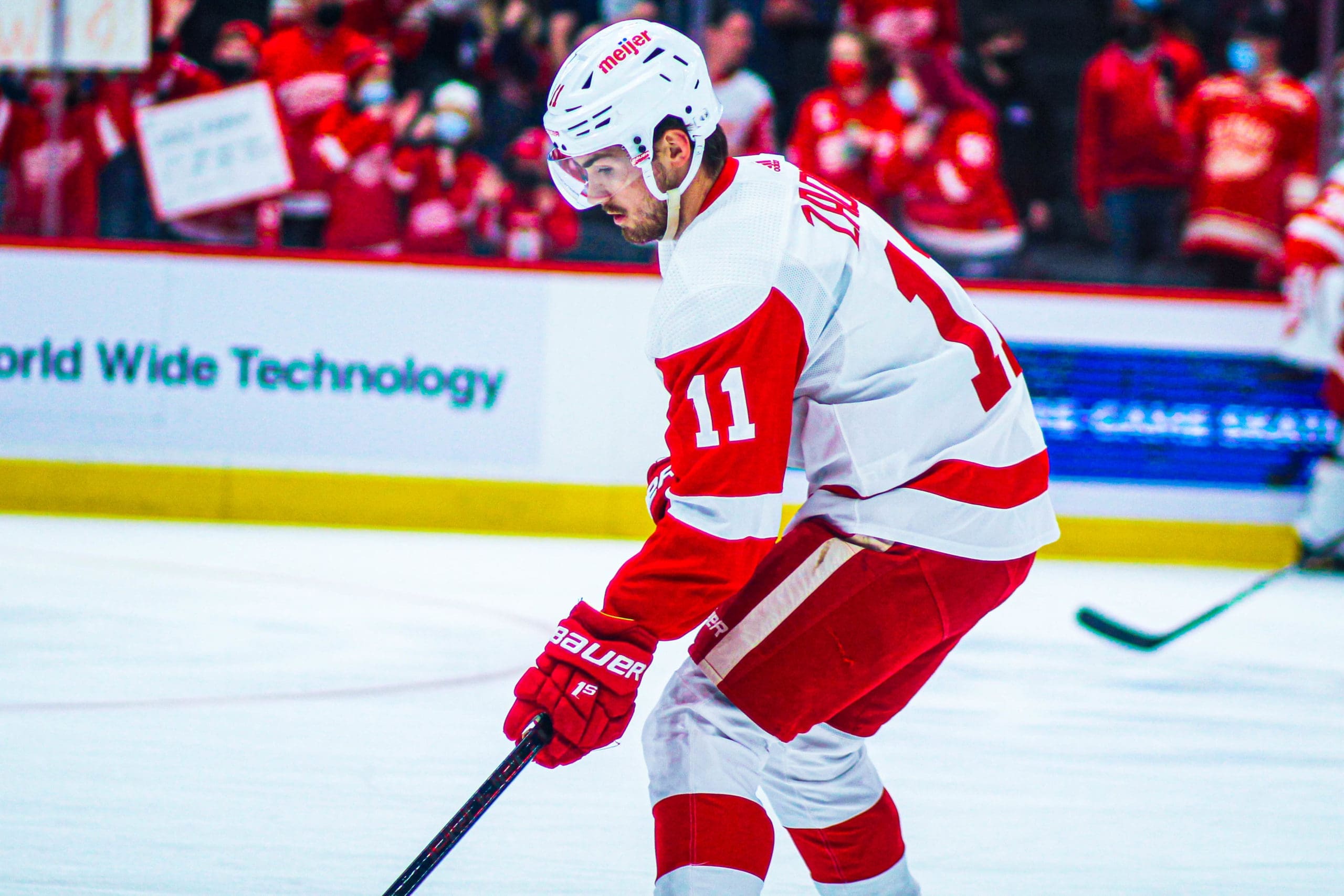 Evidently, former Detroit Red Wings forward Filip Zadina agrees with that famous Orson Welles commercial about none being sent to market before their time.
Zadina, who opted out of his contract with the Red Wings last month to sign at a much lower rate of pay with the San Jose Sharks, is of the belief that Detroit was in too much of a rush to get him into the NHL.
"It's tough for a young rookie to come to a team under rebuilding like Detroit was then," Zadina told HockeySverige.se writer Uffe Bodin about his NHL debut with the Red Wings in 2019. Zadina was 19 years old at the time.
Fem år efter att han draftats av Detroit hade genombrottet fortfarande inte kommit. Då tog Filip Zadina det drastiska beslutet.
Nu öppnar han upp om det hela.

💬"Ibland måste man offra något för att få ut något mer ur livet"#twittpuck #NHLse #LGRWhttps://t.co/kcACOcfULH

— Hockeysverige.se (@hockeysverige) August 28, 2023
"Such a team does not have as strong a core as other clubs have. I was happy and lucky that I got the chance in the NHL so early, which I probably wouldn't have gotten in many other clubs."
That being the case, Zadina would soon be discovering that he was in over his head skating in the world's best league.
"I tried my best that time, but if you are not a (Connor) McDavid or (Auston) Matthews, it is difficult to make such a difference," Zadina explained. He scored just one goal in nine games in 2018-19.
Slowed By Injury
Zadina was the sixth overall selection in the 2018 NHL entry draft. Over his five seasons of NHL play, he's never accounted for more than 10 goals in a single campaign. A 2022-23 season shortened sigificantly by injury saw him net three times in 30 games.
"I couldn't do it and that's okay," Zadina said. "These are unique players we are talking about. You don't get five or six players in the draft every year who play for the same team for 20 years and can make such a big difference."
Zadina Still Believing In Himself
Walking away from the Red Wings, Zadina was giving up $4.56 million in salary. His pact with the Sharks will be paying him $1.1 million on a one-year deal.
Many inside and outside of the game are still shaking their heads at his decision. Zadina simply sees the scenario as maintaining self belief that he can make a better path for himself in a new home.
"If I had been 31 or so, I might have thought differently," Zadina said. "But now I'm only 23 and I think the best case scenario for me is to play hockey for less money and get a chance to play regularly instead of going in and out of the lineup.
"Sometimes you have to sacrifice something to get something more out of life. I am still young and I will be able to earn the money later.
DraftKings Bet $5 Win $150
All States Where Legal
GET THE APP
SIGNUP BONUS
BET $5, WIN $150


New Player Bonus
BET NOW
"It's been five years since I was drafted and I'm still the same person. As a player, I am bigger, faster and better. I still believe in myself and it's just about being injury free and feeling the joy of the sport again.
"In the end, it doesn't matter where I am as long as I get to play hockey and have fun."