Things Starting to Look Hauntingly Familiar for Red Wings
Detroit has scored just two goals over the past two games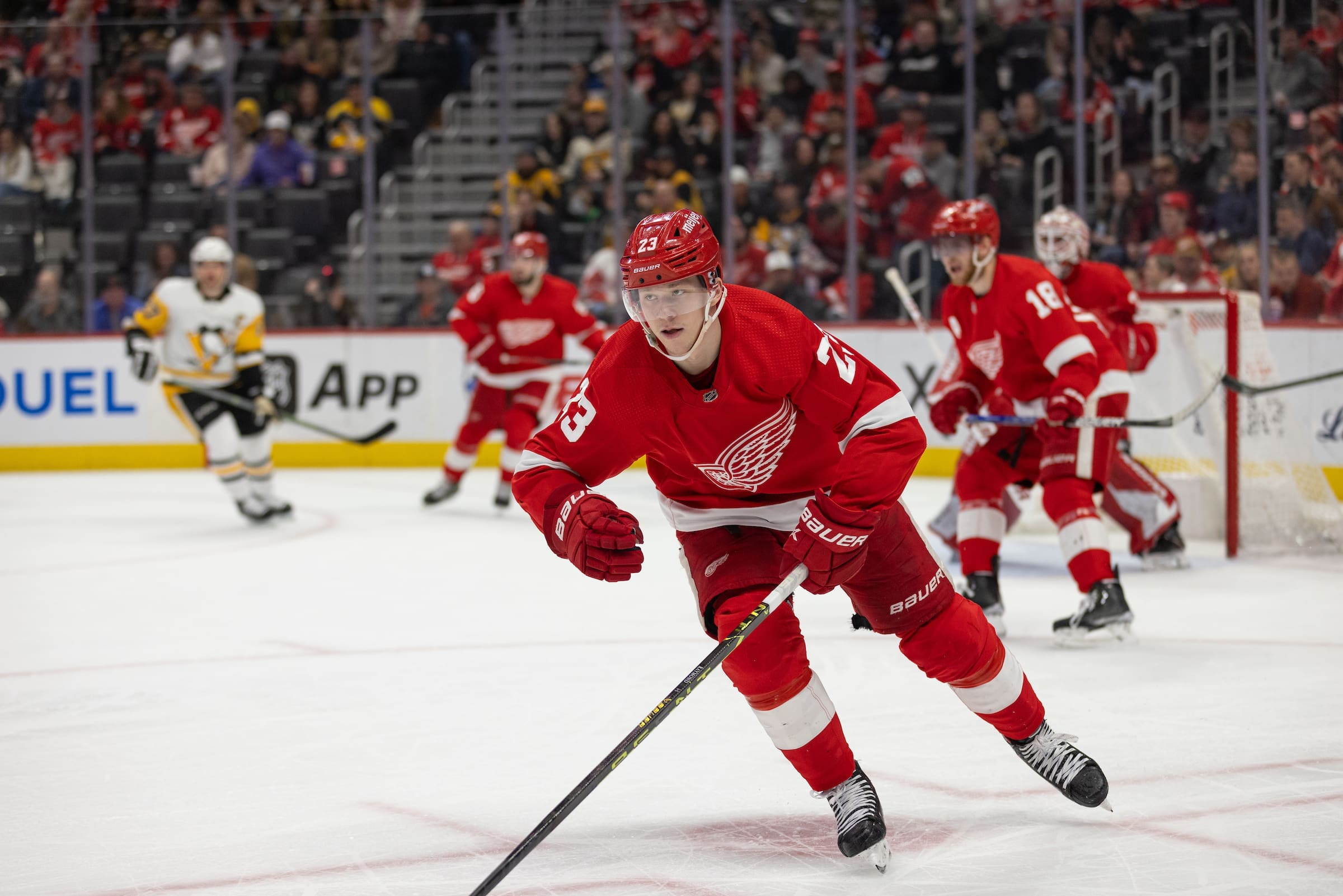 As the Detroit Red Wings ready to take the ice Monday in Long Island, where they'll be facing the New York Islanders, things are beginning to look familiar.
Hauntingly familiar.
The inability to consistently score, to succeed in special teams play and to beat top teams and elite netminders has proven to be a consistent trademark of Detroit's failure to make the playoffs over the past couple of seasons. And these ailments are rearing their ugly heads yet again.
"Obviously it's still early on in the season," Detroit Joe Veleno told Bally Sports Detroit of the team's recent struggles. "But we try not to think of it that way. We know deep down that they're meaningful games. We gotta beat the best of the best to be the best."
They weren't able to do that during a 4-1 loss Saturday to the Boston Bruins at TD Garden in a game in which the Red Wings were clearly the second-best team on the ice.
Joey V! 🔥@xfinity | #LGRW pic.twitter.com/4ORzHPGopK

— Detroit Red Wings (@DetroitRedWings) October 29, 2023
"I don't know what it was," Veleno said. "We just didn't come out to play. Our effort wasn't there, our compete wasn't there. We gotta forget about this one and get ready . . . go to Long Island and show some more compete there."
In the past two games, Veleno and Lucas Raymond are the only Detroit players with goals.
Power Play Outage Hurting Red Wings
While enjoying a 5-1 launch to the season, Detroit's rise was enabled by a power play that was clicking at around 40%. In the last two games – consecutive 4-1 losses to the Winnipeg Jets and Boston – the Red Wings power-play unit is 0-for-4.
"I think it was more us," Detroit coach Derek Lalonde said of their power-play failures. "We just didn't execute. And then we got squeezing a little bit, we were forcing some plays, got away from some simple habits on our power play and it just zapped us of some emotion."
Heading into a rink where they are 0-5-2 in their last seven visits, Lalonde feels the fixes are easily solvable and readily available to his team.
"A little more simple with our game, with our approach, get back to winning a few more battles," Lalonde said. "Hopefully, we clean up our power play. Our power play, our success early on, we fed off that."
UPDATE: The #RedWings today assigned right wing Jonatan Berggren to the AHL's Grand Rapids Griffins. pic.twitter.com/O7iglvERa2

— Detroit Red Wings (@DetroitRedWings) October 29, 2023
On Sunday, the Red Wings were returning forward Jonatan Brerggren to the AHL Grand Rapids Griffins.