Red Wings Hutchinson NHL Version of Rent-A-Goalie
Detroit is veteran netminder's seventh NHL team since 2018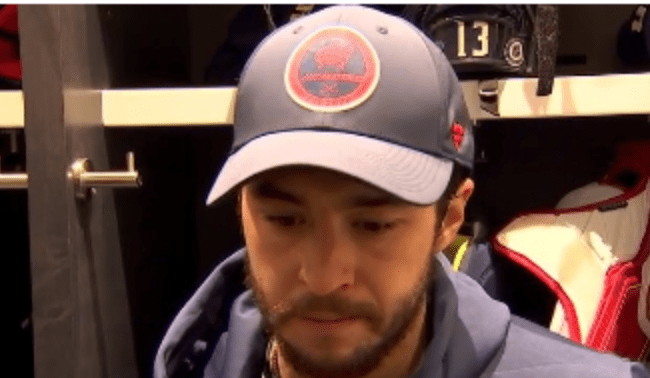 Have pads will travel could be the motto of Detroit Red Wings goaltending hopeful Michael Hutchinson. A last-minute addition to the training camp roster, the veteran puckstopper is in camp with Detroit on a PTO. The well-traveled netminder could best be described as the NHL version of rent-a-goalie.
"I wasn't expecting to be in this situation," Hutchinson admitted. "It's nice to come to an organization where I was able to get 30 minutes in the other night (against Washington) and get the chance to play some more minutes (Tuesday at Chicago)."
Hutchinson, 33, played the second half of Tuesday's 4-2 Detroit loss to the Blackhawks at the United Center. Among his 17 saves, he was stopping 2023 NHL first overall pick Connor Bedard on a breakaway chance.
There's perhaps no more tenuous position to be in during the NHL preseason than to be in camp on a PTO. They are only gettting paid a per diem. No promises are made to the player, other than the opportunity to shine. And even if they do, in the salary cap world, earning a contract is extremely unlikely.
What has happened to Michael Hutchinson 😭 pic.twitter.com/tnSfJRMwyX

— michael 🏛️🐍 (@eh_toque) October 4, 2023
"It just doesn't happen that often," Red Wings coach Derek Lalonde acknowledged. "I think it's a different landscape now, with the flat cap."
That being that case, making a case for Hutchinson finding a path to sticking in the Red Wings isn't all that difficult. In fact, there are a number of avenues that could be opening up to him.
Timing Of Hutchinson Arrival Intriguing
Firstly, there's the timing of his arrival.
"Just got a call the Monday before camp," Hutchinson explained. "Didn't have too much going on. I was actually on the golf course. Getting the itch to go on the ice, so I figured why not come here?"
The Monday before camp was the day after the conclusion of the NHL rookie tournament in Detroit, an event that saw Red Wings top goalie prospect Sebastian Cossa lit up for 13 goals over three games. Did Cossa's struggles spark the Red Wings to go after some goaltending insurance, in case Cossa isn't ready for a role as an AHL regular with the Grand Rapids Griffins?
Since that day, other possibilities are developing that could lead to a contract for Hutchinson. Andrei Vasilevskiy, the Vezina and Conn Smythe Trophy-winning goaltender for the Tampa Bay Lightning, will be missing a good chunk of the start of the season after undergoing back surgery. The Lightning will be in the market for netminding help and could target someone like Detroit's Alex Lyon, should he be sent to AHL Grand Rapids and need to clear NHL waivers.
Were the Red Wings to lose Lyon, Hutchinson would be a guy capable to taking over with the Griffins. On the other hand, if Detroit was opting to keep three goalies on the NHL roster in order to protect against losing Lyon on waivers, they could always do something like signing Hutchinson to a 25-game pro tryout deal with the Griffins to fill the gap. Goaltending depth is vital in today's NHL.
Hutchinson A True Journeyman
Whatever scenario should develop, it's a safe bet that Hutchinson will be able to adapt to it smoothly. The Red Wings are his seventh NHL organization since 2018, following Winnipeg, Florida, Colorado, Toronto (twice), Vegas and Columbus.
"He's been good," Lalonde said. "He stops pucks. He obviously wasn't with us coming into camp when we put together our plan and now he's into his second game, which is good."
For his part, Hutchinson is ready to roll with whatever the hockey world is intending to aim his way.
With his gray pads and gloves and plain white mask, PTO Michael Hutchinson looks like #RedWings pulled a beer leaguer out of the crowd to play goal tonight. #NHL #LGRW pic.twitter.com/dpWmPwMAGo

— Bob Duff (@asktheduffer) September 30, 2023
"At the end of the day, it's better to be skating than sitting on your butt," Hutchinson said. "For myself, it's an opportunity to come here and get some good skates in, meet some guys and get to see a great organization. You come in with no expectations, so I can enjoy each moment and whatever happens, happens.
"Just keeping it in perspective. I enjoy playing, enjoy coming to the rink and getting on the ice. I come and put in my work and whatever happens is out of my control."