SHL Defenseman Cites Nepotism in Case Of Red Wings Prospect Johansson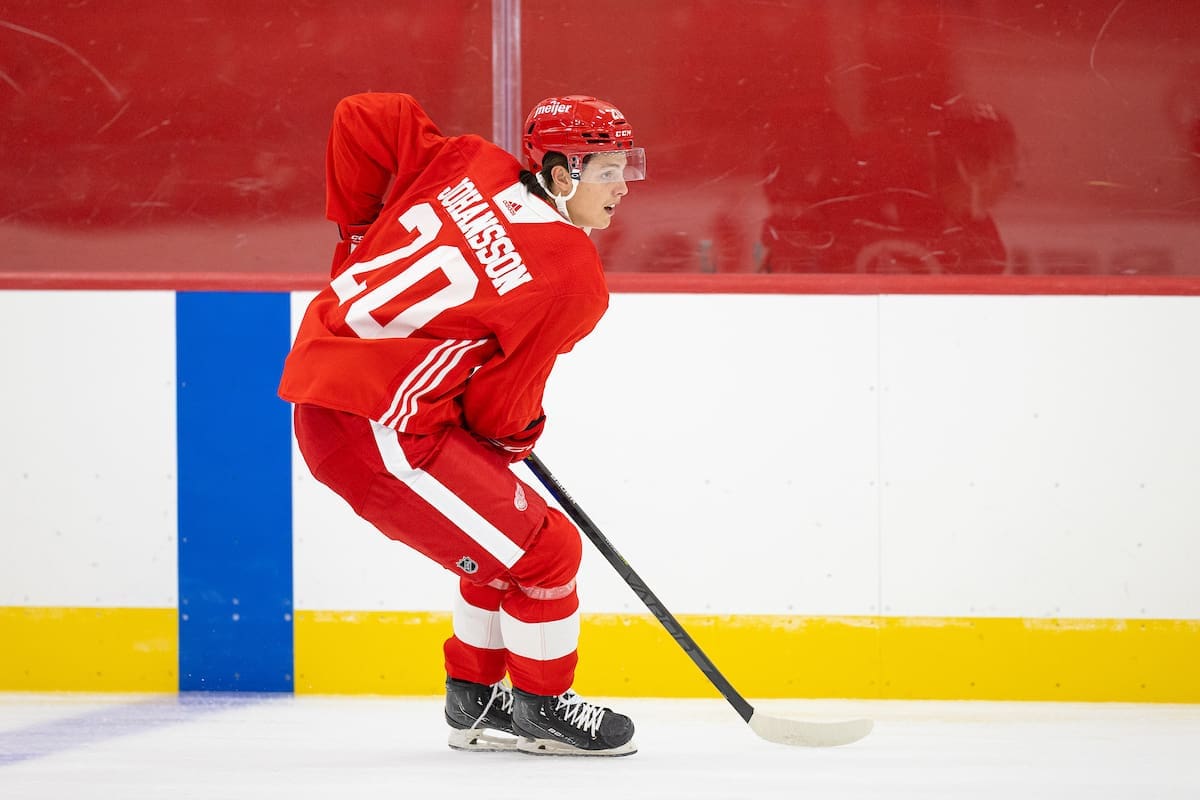 In the instance of Detroit Red Wings prospect Anton Johansson, it isn't so much a case of like father, like son, as it is an example of the father paving the way for the son.
At least that's how one SHL rival is viewing the situation.
Veteran Swedish defenseman Jonas Junland was a 2006 draft pick of the St. Louis Blues. He would suit up for three games with the Blues during the 2009-10 season. Junland is currently playing in the SHL for Linkoping.
Anton Johansson opens the scoring of the #WJSS sneaking a wrister past Andrew Oke. Sweden up 1-0. pic.twitter.com/OzYEKdd4f4

— Ryan Sikes (@ryan_sikes10) July 29, 2023
He's suggesting that the only reason 2022 Red Wings draftee Johansson is playing for Leksand in Sweden's top league is because his father Tjomme is sports director of the club.
A recent five-game suspension to Leksand defenseman Anton Lindholm figures to be opening up a window for more playing time for the younger Johansson.
"Tjomme's son will soon be playing 40 minutes per game and he might not have a SHL job if dad wasn't sports director," Junland said during an appearance on the Swedish show Hockey Thursday.
Johansson Scoffs At Accusation
Johansson's father scoffed at any notion that their relationship is playing a role in Anton's advancement up the Swedish hockey ladder to a place where he's viewed as a legitimate NHL prospect.
"Haha… We are quite used to different people having opinions and thinking things about our children," Tjomme Johansson wrote in a text to Swedish website Aftonbladet.se. "Otherwise, I have no comments."
Anton Johansson, 19, signed a multi-year contract with Leksand earlier in the year. He's playing his first full campaign in the SHL.
Anton Johansson, has performed over my expectations this season by playing 21 SHL games and caps the regular season off with his first ever 🚨! Well done by thge 18year old right shot defenseman. #LGRWpic.twitter.com/rvMab624oG

— Lars Thorsell (@LarsThorsell) March 9, 2023
"It almost feels a little surreal," Anton Johansson said. "I didn't think that when I came to Leksand. It's great fun.
"I feel like I'm developing every day and it's really fun to get this chance to train and play with the seniors."
Detroit made him the 105th selection of the 2022 NHL entry draft. Johansson is also a contender to play for Sweden at this year's IIHF World Junior Championship.