The Daily: Penalty Kill Could Make or Break Red Wings; Oshie Buries Fantilli With Punishing Hit
Red Wings were 19th in NHL on PK last season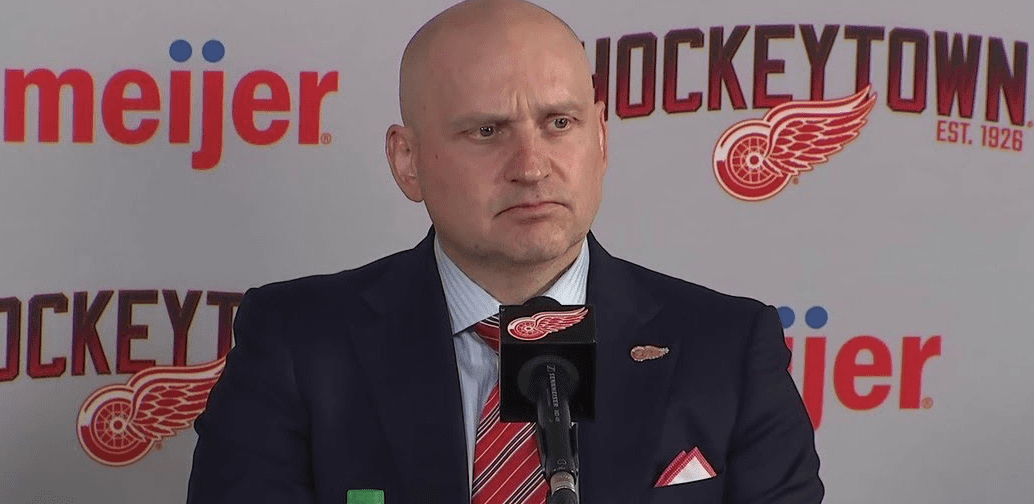 As much as Detroit Red Wings are excited about the potential for the club's revamping of the power play, the continued revitalization of the penlty killing unit will have as much, if not more to say about whether there are playoffs this spring for the club.
Red Wings coach Derek Lalonde was noting that teams can survive a slump by the power play, but bad penalty killing, much like substandard goaltending, is always fatal. As DHN's Kevin Allen points out, only two of the bottom 11 PK units in the NHL last season were postseason participants.
Red Wings In Case You Missed It
Red Wings Next Game
Detroit is oepning the NHL regular season on Thursday, Oct. 12 at New Jersey, facing the Devils with a 7:30 p.m. ET start. The Red Wings are 3-0 in their last three trips to New Jersey.
Atlantic Division
Boston: Head coach Jim Montgomery is indicating that the Boston Bruins will be using the same Linus Ullmark-Jeremy Swayman rotation in goal this season.
Buffalo: Out for the entire training camp with an upper-body injury, Buffalo Sabres forward Matt Savoie is back practicing with the team.
Florida: The Florida Panthers will be without forward Sam Bennett for the start of the regular season due to a lower-body injury.
Montreal: A look at how the Montreal Canadiens can ensure their future in the NHL's deep Eastern Conference.
"I have Kuby here. He's helping me a lot, he's telling me about his first year because he came from Europe as well. Same situation for me so he's helping me a lot, with him it's much easier.

Jiri Smejkal on how Dominik Kubalik has eased his transition to the NHL pic.twitter.com/tWxgv1hhuC

— Ottawa Senators (@Senators) October 7, 2023
Ottawa: Watch as former Red Wings forward Dominik Kubalik scores for the Ottawa Senators in their preseason finale against Montreal.
Tampa Bay: Defenseman Mikahil Sergachev is honestly surprised by how well netminder Jonas Johansson is playing since Tampa Bay Lightning No. 1 goalie Andrei Vasilevskiy was lost to knee surgery.
Toronto: Defenseman John Klingberg (upper-body injury) is expecting to be good to go for the Toronto Maple Leafs regular-season opener.
Hockey Now Network
Pittsburgh: the Pittsburgh Penguins have signed NHL veteran Colin White to a one-year contract.
Philadelphia: In a surprising move, the Philadelphia Flyers were placing hard-nosed forward Wade Allison on waivers.
New Jersey: The New Jersey Devils signed forward Max Willman to a two-way contract. He'll be given assignment to AHL Utica should he clear NHL waivers.
Islanders: What was learned about the New York Islanders during training camp and the NHL preseason.
T. J. Oshie welcomes Adam Fantilli to the NHL. 😳 pic.twitter.com/TiuZr7LFkD

— Sportsnet (@Sportsnet) October 8, 2023
Washington: Gotta see it: Washington Capitals forward T.J. Oshie levels Columbus Blue Jackets rookie Adam Fantilli with a devastating bodycheck.
Carolina: Carolina Hurricanes star Andrei Svechnikov is very close to returning to action according to coach Rod Brind'Amour.
Colorado: The Colorado Avalanche signed teenage defenseman Sage Weinstein to a contract. He was a free-agent invite to training camp.
Chicago: Final cuts are looming for the Chicago Blackhawks.
Nashville: Veteran forward Denis Gurianov is being placed on waivers by the Nashville Predators.
San Jose: The San Jose Sharks are planning a trek to some Napa Valley wineries as a team bonding experience.
Vegas: The Vegas Golden Knights were hitting the waiver wire, claiming Grigori Denisenko from the Florida Panthers.