Red Wings Prospect Report: Sandin Pellikka Wowing Teammates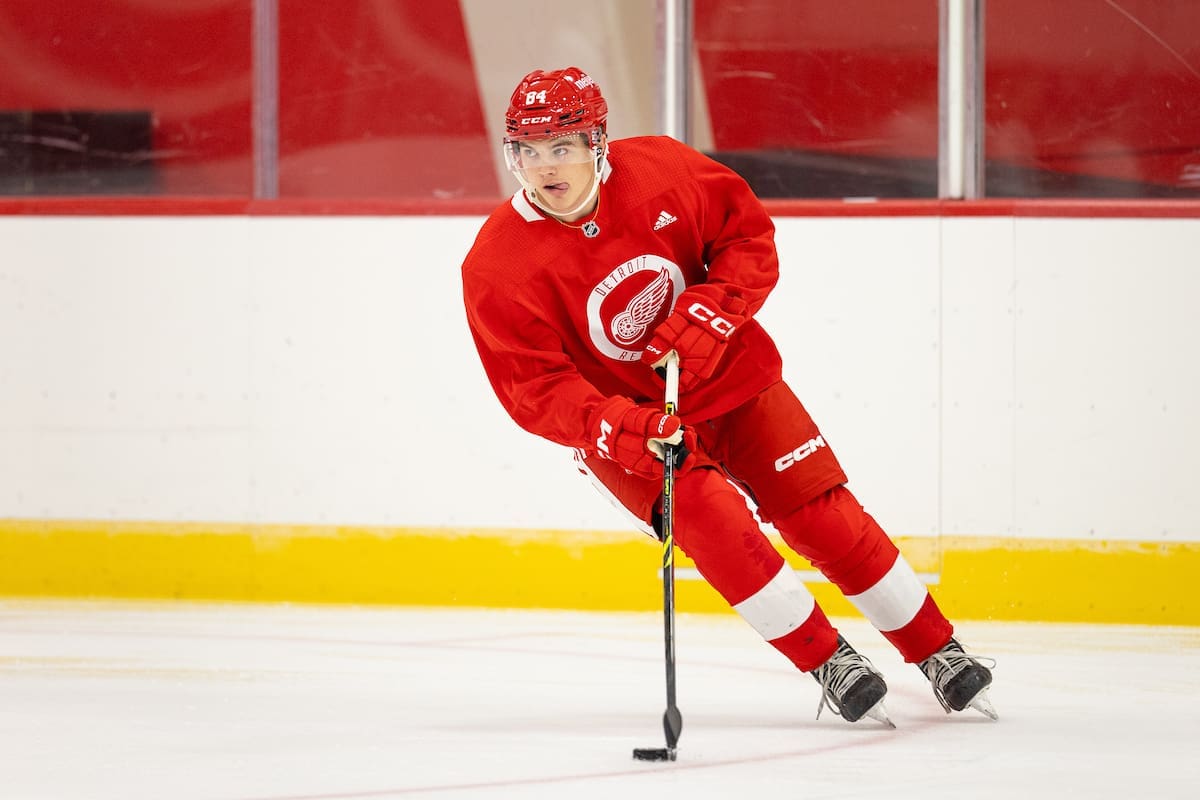 His spectacular start to the SHL season has Detroit Red Wings 2023 first-round draft pick Axel Sandin Pellikka turning heads everywhere . . . including those on his own team's bench.
Asked which of his Skelleftea teammates has been the most impressive this season, captain Jonathan Pudas didn't hesitate when answering.
"It has to be Sandin Pellikka," Pudas told SHL.se. "Everyone in the team knew his level, but he has impressed."
Pellikka's 5th of the season🚨🔥 pic.twitter.com/ZXqinjARom

— IcehockeyGifs (@IcehockeyG) October 19, 2023
With five goals through 12 games, Sandin Pellikka (17th overall, 2023) is leading all SHL defensemen in tallies. Only 11 players in the league have more goals than him. Sandin Pellikka, 18, is second overall in goals scored by junior-aged players.
Dower Nilsson Lighting Lamps
Another Red Wings prospect is lighting lamps with regularity in the Allsvenskan, the Swedish Second Division. Liam Dower Nilsson (134th, 2021) is atop the Allsvenskan with eight goals scored for IF Bjorkloven. He's sixth in the league scoring race with 12 points.
Liam Dower Nilsson's 8th goal in 9 GP this season.

Last year in Allsvenskan he had 3 goals in 32 GP. #LGRW pic.twitter.com/r3GPQwoJix

— IcehockeyGifs (@IcehockeyG) October 18, 2023
Granted, it is Tier II of Swedish hockey, so maybe take the totals with a grain of salt. Still, it's worth noting that Dower Nilsson was able to tally just three times in 32 games last season while toiling for Vasteras in the Allsvenskan.
Red Wings Pick Buchelnikov Nets FIrst KHL Goal Of Season
Left-winger Dmitri Buchelnikov (52nd, 2022) has played six KHL games for Admiral Vladivostok since he was sent there on loan by SKA St. Petersburg, and he's finally on the scoreboard.
Buchelnikov is showing one goal and one assist from six KHL games this season. He's averaging 9:49 of ice time since the move to Admiral.
Danielson A Hero Upon Brandon Return
Center Nate Danielson (9th, 2023) has only scored one goal since returning from Detroit to the Brandon Wheat Kings of the WHL, but it was a big one. He tallied the only goal of the game in a 1-0 overtime win over the Lethbridge Hurricanes.
"Good players come through when it matters most and a big-time player made a big-time play in overtime to give us the win," Wheat Kings coach Marty Murray told the Brandon Sun.
Through seven games, Danielson is showing 1-4-5 totals.
Gibson Stepping Up For Soo
In the OHL, defenseman Andrew Gibson (42nd, 2023) is also off to an impressive start with the Sault Ste. Marie Greyhounds. He's 12th among OHL defenseman in scoring. Gibson has collected 2-7-9 numbers through 11 games.
The 6-foot-4, 206-pound rearguard accounted for four assists in a game against the Flint Firebirds. Gibson also produced a goal and two assists in another game facing the Sarnia Sting. His plus-9 rating is tied for third amongst OHL blueliners. Gibson has only been a minus in one game this season.